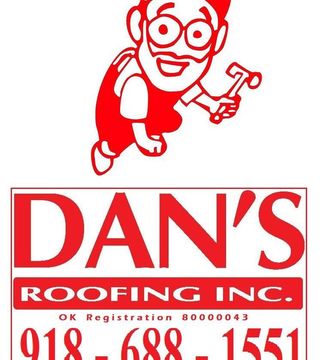 General Contracting, Tulsa, OK
Dan's Roofing
has always focused on an efficient use of time, but we also emphasize quality and only tear off of your roof what can be shingled back in each day. We will not install any roofing product outside the bounds established by the manufacturers. Every crew receives personal guidance from Dan and every one of our salesman knows that Dan's Roofing, Inc. will absolutely stand by their agreements with you, the
property owner.

Dan's Roofing, INC has an A+ rating with the Better Business Bureau and is a member of the National Roofing Contractors Association and the National Federation of Independent Business.

When you receive a proposal from us you will notice that we will match any other comparable proposals if they are lower. We use all major branded materials, but even these days of high technology, the most important thing in roofing is still the guy behind the hammer. If you would like for us to come look at your roof, call or email us and we will come and perform a free inspection.

Why Dan's Roofing?
Owner on all job sites
No job too small
Ventilation specialists
Free and forthright inspections
Leak experts
Great workmanship warranty
Fully insured
Lead paint certified
... see more
Dan's Roofing hasn't created any Boards yet.