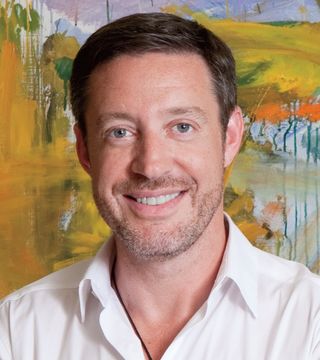 David Scott designs visually stimulating, yet highly functional interiors that gracefully meld practical architecture with unique design. For over 20 years, David has served as the Principal and founder of his New York based design firm, David Scott Interiors, LTD. His style blends the timeless elegance of the past with the functionality of the present, using a collaborative and detail-oriented approach to create calming and beautiful environments.

David's signature designs emphasize the personal style of his clients. The very fabric of his business lies in embracing the natural connection his clients have to their project, ensuring their personality and character are reflected in the design. The result is an inviting environment that is highly personal, comfortable, and practical.

David's new book: David Scott: Outside the Box was published by Pointed Leaf Press. Outside the Box: An Interior Designer's Innovative Approach to Creating Chic and Comfortable Rooms is a delightful behind the scenes look into eleven of his most stunning projects. Outside the Box takes a look at the elements of inspiration that have been the guiding force for David's innovative and striking spaces, where comfort and chic harmoniously co-exist.

David resides in Manhattan and Water Mill, NY. His contemporary apartment and quintessential Hamptons cottage are filled with an eclectic mix of vintage and modern furnishings and art. When David is not designing, he enjoys entertaining friends, feeding his passion for art and antiques, and spending time with his two miniature Dachshunds, Ethan and Josie.




... see more