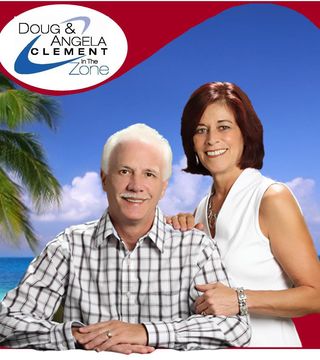 Buyer's Agent, Listing Agent, Relocation, Orlando, FL
Experience Extreme Happiness!  
Have award winning expertise in your corner. Recognized by ORRA as "Star Performers" Published in CFB, Orlando Business Journal & Florida Realtor Magazines
Independently rated "Best in Client Satisfaction"

It's no wonder Doug & Angela make such a good couple. Once they set their minds to something, there's little chance it won't happen.

Dive Right In!

For years, the most apparent example of Angela's driven personality was seeing her dive head-first out of an airplane as an amateur skydiver. Although some of the people she freqently jumped with became professional stuntmen, Angela did it purely for the thrill and excitment of the jump.

Outside of work, Doug's focused personality is perhaps most evident when he's on the raquetball court or in a chess tournament. His competitive drive and "give it your all" mentality really come out when battling an opponent.

Making Teamwork Work

When you put Doug & Angela together is when they really come alive. In their careers as one of Central Florida's leading Real Estate teams, Doug & Angela combine their focus and determination to provide their clients with a superior level of service. The results speak for themselves.

Exceeding Expectations

Angela's strengths lie in her passion for people. She's very adept at developing relationships that allow her to truly understand her clients desires. Meanwhile, Doug excels at the strategy and negotiating side of business. In fact, it's what he lives for.

Two Professionals... One Focus

"We're passionate about providing the best service possible for our clients. We know how important it is for our people to not only find a home, but to find them the right home for the best price."

When the time comes for your move, experience what it's like to work with caring and knowledgeable professionals toward the sale or purchase of your new home.
... see more