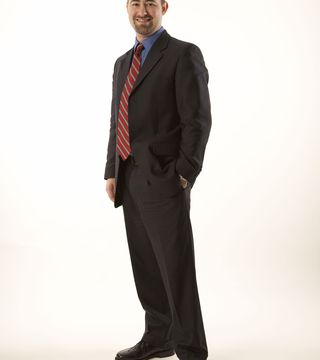 Purchase Loan, Refinancing, Home Equity, Mortgage Planning, Fort Wayne, IN
I graduated from Purdue with a bachelor of science degree in 1999, and entered the financial industry in 2002.
After graduation, the first three years of my career were spent in manufacturing management. I then became a branch manager for American General Finance (part of AIG). My next position was at Fifth Third Bank as a mortgage loan originator. Following that, I was a mortgage loan originator for J. P. Morgan Chase.
In
July 2007, I was given the opportunity to work at Hallmark with my father, John Gaier, to form The Gaier Team. I believe working together as equal team members makes us unique in the marketplace. I work on everything from first-time homebuyers to FHA loans to VA loans and everything in between. I also specialize in tax credit programs, specifically the Mortgage Credit Certificate (MCC) program through Indiana Housing.

I love spending time with my wife Stephanie, son Elijah (born 2009), daughter Rowan (born 2010) and our Yorkie, Fletcher. We enjoy golf, wine tasting, church league softball, yard games, tennis and Bible study.

I am an Eagle Scout and an Evans Scholars Alumnus. I received a full tuition four year golf caddie scholarship that I earned partly by caddying in High School at Greenhurst Country Club in Auburn (now Bridgewater) and at Fort Wayne Country Club. Contact me to learn how your son or daughter may qualify for this scholarship or go to www.EvansScholarsFoundation.com. It is the largest privately funded scholarship in the country and yet so few people know about it.

I like the fact that Hallmark is locally owned and the decisions are made here. Hallmark also offers you, the customer, an unprecedented level of professionalism and experience.

My customer service philosophy is to treat everyone as I would like to be treated.

The Gaier Team… "Let our family finance your family's next home!"


TESTIMONIALS


"As a Buyer's Agent, I expect a very high quality of service to be provided to my clients, I have found Nathan and the Hallmark Team, to meet or exceed my standards many times. Nathan and the Hallmark Team seem to utilize a "common sense" approach to lending. An approach that is all too rare today."

Steve McMicahel - Realtor®/Broker/ePro®/ABR
Imagine Real Estate
---
"Nathan provided excellent service and assistance in closing on our first home. Before selecting Nathan as our mortgage broker, we interviewed five other lenders and brokers. Nathan was the most professional, courteous, informative, and honest. He was very knowledgeable and helpful in providing information that we had not considered and it ended up benefiting us greatly in the closing process. He exceeded our expectations and we plan to work with him again in the future."

Scott & Elizabeth Arnold
---
"Nathan and April, thank you so much for all your hard work on the Koscher/Weaver loan. You & April did a great job. It could not have been done without you."

Mary McMichael
---
"Nathan & April, thank you so much for all your help and information. It made this purchase of our home so much easier and less stressful. We really appreciate it."

Tina & Jr. Beverly
---
"It's difficult to find the words to describe my experience with Hallmark Home Mortgage. I have never in my life come across the amount of support and understanding that you have given me. From day one you were there to walk me through the loan process. You displayed a great degree of professionalism and I knew I was in good hands; and ultimately you got the results I was hoping for. Even when I felt things were looking grim, you reassured me and worked even harder to make sure my mind was at ease. As a first time homeowner I never thought I would experience what I have with your company. While most places seem to get a 'Not approved' status, you fought for me to get an 'Approved status'. For anyone seeking a mortgage consultant, my first and only recommendation would go to you hands down.

My entire family will forever be indebted to you and your efforts."

Stephen
---
... see more
Nathan Gaier hasn't created any Boards yet.