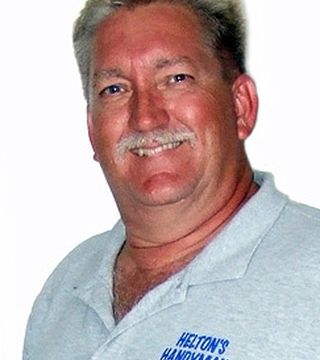 Helton's Handyman Services, LLC
About Helton's Handyman Services, LLC
Bob Helton began his repair and home renovation business in Ohio back in 1988. After almost 20 years, he took the plunge and moved to Arizona in 2004. Noticing there were a lot of people in need of a general Handyman, Bob started putting his years of experience to good use working for folks here in the East Valley! He obtained his K-61 license and his business simply took off running.
Specializing in both residential and commercial repairs and remodels, folks soon found his warm personality and true work ethic were a good match for them. Now, with a dedicated work crew to assist him, Helton's Handyman Services, LLC provides valuable, quality repair and remodeling services throughout Maricopa County.
Bob's crew currently provides repair and restorative services to Red Robin, One World Property Management and Coffee Plantation Cafe. Passionate about getting the job done right, Bob always puts his best foot forward for his customers. This is evident from the many testimonials that are coming in about Helton's Handyman Services and its staff of quality handymen.
If you own a Property Management company, a busy restaurant, or even if you're finding you can't do what you used to in your own home (the "Honey-do" list that keeps growing), Bob's team at Helton's Handyman Services will be there to make it what you want it to be. What are you waiting for? Call him today!
... see more
Helton's Handyman Services, LLC hasn't created any Boards yet.