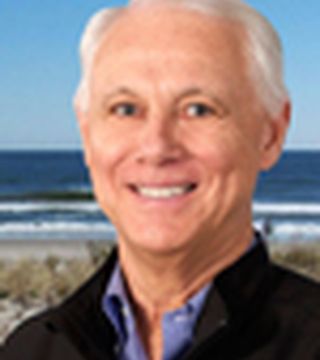 Hugh is passionate about Real Estate and providing his clients and customers with the most accurate, up-to-date information so they can make the right decision for themselves and their family that they can be excited about for years and years…accumulating wealth to protect their families for the future as well as creating wonderful family memories on 7 Mile Beach.

With over 25 years of Stone Harbor, Avalon and Cape May County real estate experience, Hugh specializes in the highest level of professional real estate service available. He is known to be dedicated, detail oriented and extremely knowledgeable to the point that everyone, his clients, customers, rental owners, rental guests, colleagues and investors seek his opinion and advice regarding vacation resort real estate before they proceed. With his easy and friendly manner, Hugh, is someone to count on to make the process easy, fun and successful for everyone involved?

Hugh is the creator, owner and "Team Leader" of the very successful Hugh Merkle Team. A "True Team" of professional New Jersey Licensed Real Estate Specialists that share the same high level of integrity as Hugh does. Like Hugh, they are dedicated to customer service, specialists in the field of Resort Real Estate, experts in the art of negotiation, consistent, dependable and passionate about providing accurate information needed so people can make the right decision at the right time. Creating lasting relationships with their clients, customers and colleagues is a strong goal of Hugh and his Team.

Hugh Merkle and the Hugh Merkle Team have been award winning Top Producing Real Estate professional for years. Listed below are just a very few of the many awards Hugh and his Team have received:

*Nationally - For the last 10 years* Hugh and his Team have been recognized nationally with the Prestigious PREA 100 Award (PREA 100 Residential Award winners represent the top 100 sale professionals/team in the entire Prudential Real Estate network – there are over 60,000 Prudential agents nationwide).

*Regionally - Since Hugh Merkle joined the Prudential Fox & Roach Family of Realtors in 1999, Hugh has been recognized as an award recipient of Prudential Fox & Roach's prestigious Chairman Circle Award (PFRR Top 10 producing real estate agents – there are 6,000+ PFRR agents in the Region.

*Statewide - Hugh and his TEAM have been awarded the New Jersey Association Of Realtors Circle Of Excellence Platinum Level since his current TEAM was formed in 2004 and many years before that as an individual agent.

*Island wide - Hugh has been one of the 3 most consistently knowledgeable and successful Top Producing resort real estate agents in both Avalon and Stone Harbor.

**Before joining the Prudential family and opening the PFRR office on the island for the company in 1999, Hugh was nationally, regionally and locally recognized with numerous awards for professionalism and performance while he was associated with another Real Estate company on Seven Mile Beach.

Striving to "Give Back" to the local community for his strong record of success, Hugh created the very popular, successful and very information Hugh's News publication that helps everyone stay informed about the local Real Estate market and trends. Hugh is also a strong and contributing supporter of the extremely popular Seven Mile Times Free News Magazine that keeps everyone so well informed and entertained throughout the year on the happenings, both past and present, on Seven Mile Beach.

Hugh is a graduate of Camden Catholic High School, New Jersey (class of 1960), West Chester University, Pennsylvania (Class Of 1965), and a former American Government teacher at Haddon Township High School in the 60's and 70's as well as a very successful High School, Club and National Swim Coach at Jersey Wahoos Swim Club from the mid 1960's thru the mid 1980's. Wonderful years to look back on and enjoy the friendships that the many associations above created for him.

Hugh is a passionate and dedicated full time real estate professional. Outside of real estate, Hugh enjoys sharing life's pleasures with his family. Staying up on college and local sports through the newspaper and internet, studying and enjoying fine wines and photography are Hugh's other relaxation activities.
... see more