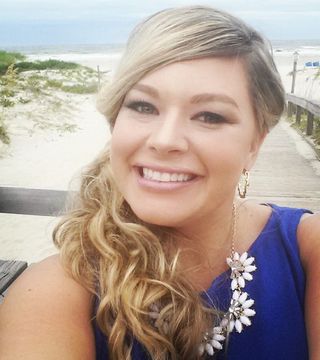 Meet Jenny Rutherford Keller Williams Realty – Downtown Office Where did you grow up? I grew up on a farm at the base of the Blue Ridge Mountains in Virginia. I've lived in several states, including Virginia, Maine, Kentucky and Georgia. I majored in Advertising Design from Savannah College of Art and Design.
FAMILY: Currently in a Relationship Pets - Lilo, a Yorkshire Terrier
What do you enjoy
most about living in the Savannah area? There is so much to do here and being close to the beach is a major benefit! With a city full of natural beauty and plenty of excitement, there are lots of opportunities to get out there and meet your neighbors. I enjoy going to the movies in Forsyth Park, music festivals, Oyster Roasts, networking events, etc.

What do you enjoy doing when you're not working? My favorite pastime is going out on the boat and being on the water. I also like working out, visiting Tybee, and getting to be a tour guide when my friends and family visit. I love to travel and always try to schedule a trip to somewhere new every other month.

How long have you worked in Real Estate? Essentially, I've been around it my whole life! I've been a licensed agent and Realtor for over 9 years in VA and GA. My family businesses involve Construction and Development, Real Estate and Property Management.

What would you consider your specialty? I am a Military Relocation Specialist and assist those relocating to Hunter Army Airfield & Ft. Stewart. The majority of my military clients are First-Time Home Buyers looking in New Construction communities- both segments which I enjoy working with. As a SCAD graduate, I also represent many members of the SCAD community who buy and sell. I specialize with both downtown Historic Properties and the Condo market.

Do you have any accreditations or certifications? I am a member of the Savannah Board of Realtors, Georgia Association of Realtors and the National Association of Realtors. I have completed my first year of Graduate Realtor Institute and am finishing BOLD with Maps Coaching now.

What Is The Most Challenging/Gratifying Aspect Of What You Do? The market today can be a challenge for sellers, so being able to help owners sell at a great price in the quickest amount of time possible is really gratifying.

What is the most unique property you've ever listed or sold? The cutest small Historic 500sqft studio carriage house off of Forsyth Park! For such a small space, it generated a lot of attention, as it is really a one of a kind find for downtown on it's own lot. In the end, we actually had buyers willing to pay over the appraised value due because it was their dream property!


What is the one tip you have for someone looking to buy a home today? Before looking at homes, speak with a lender to become "pre-qualified". This will help identify your max purchase price range so you don't look at homes you can't afford. I always recommend using a local lender as they are familiar with the market and offer
personal service.

What is the one tip you have for someone looking to sell a home today? Do not overprice your home- be realistic. Listen to your REALTOR's advice and stay in-line with the market. You can't change your location so if you want top price, you've got to have your home in the best condition!

What do you see in the future for real estate sales/prices? With the historically low interest rates available, I believe that we will begin to see fewer foreclosures on the market over the next few years. The Savannah real estate market, especially downtown, has been fortunate to have SCAD, the military and local industries relocating new residents to the city yearly thus driving the consistent sales.

Why should someone use you as a real estate agent? I am experienced and passionate about helping my clients! I pride myself in being an effective negotiator, purposeful communicator and staying knowledgeable on the local market. Whether you're local or out of town, I have the ability to write contracts online and use e-signatures that save you time, money and present your offer instantly.
... see more