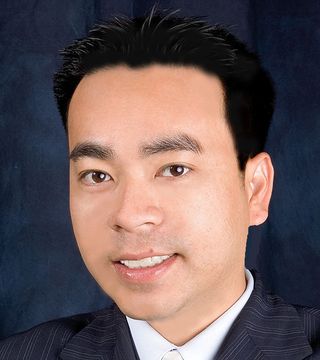 Listing Agent, Foreclosure, Monerey Park, CA
The real estate industry is becoming more sophisticated and challenging since new technology and innovation across the country has changed the way we do business. In the information age, we are forced to make changes or stay behind in our fast growing global market. We need to keep up with the market and understand the industry and its position to stay ahead of the game.
As a preeminent real estate professional in my community, I
believe in honesty, integrity, innovation and, most importantly, helping others. I have been a resident in the San Gabriel Valley community for over 20 years. I grew up in Monterey Park, attended Alhambra high school and enjoyed much of my college life living in Rowland Heights and Diamond Bar. After attending the University of Cal Poly in Pomona and then ventured into grad school at USC. I'm currently on the Board of Director for the Chamber of Monterey Park.

Prior to entering the real estate business, I have held positions such as sale manager, account executive, credit officer, CSO, vice president and president. However, I have learned from experience that working in a corporation and running a small business is not as rewarding as helping others. I have experienced family hardship growing up when my family lost their home not only once, but twice in my early childhood and adolescence. This has impacted my life by giving me the desire to help others from losing their homes. In that respect, I presently conduct monthly seminars on the issues of foreclosures, probate and Trust Sales.

Since entering in the Real Estate business in 2003, I have set new records in the industry with 100% of my listing SOLD. My track records reflect on hundreds of properties sold. I have been awarded International Presidential Circle by the most recognized and oldest real estate company, Coldwell Banker. I have been recognized to be the top 1% listing broker in the San Gabriel Valley. However, I am also driven to help others in buying their first home or building equity on their properties. My goal is to build a network of community in the real estate business and find a solution to help my clients acquire financial freedom through real estate.

I'm excited to launch ManRealty.com in my home town Monterey Park, CA. We are the forefront in real estate technology for our industry. By providing buyer an live interactive map search and assign each buyer an agent to assist them with their home buying process and providing sellers a free estimate home value throughout the U.S. Our goal is to create an enjoyable, convenient, and affordable home buying and selling experience through the provisioning of professional service and innovative solutions. Please feel free to visit www.ManRealty.com

As a top 1% listing broker in Los Angeles County, I have sold 65% of the properties over asking. If you like to know how I can help you sold your property for more. Please call my office to make appointment at 626-872-0608. Thank you!

If you are looking to buy or sell a home or would just like more information, please feel free to call or Email me.

Click here to see my track record on 100% sold listings:

http://www.johnmangroup.com/334271.html



... see more
John Man Group hasn't created any Boards yet.