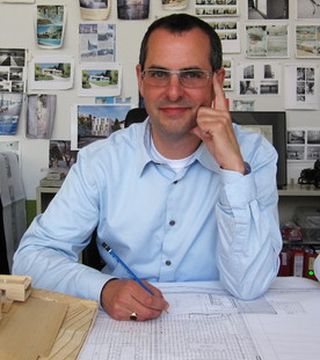 Mark Dziewulski Architect
The office of Mark Dziewulski Architect has grown significantly in experience and reputation since it was established nearly twenty years ago. They carry out projects in the USA, Europe and Asia. They have received many design awards, including three Excellence in Design awards from the American Institute of Architects for "Significant Works of Architecture", as well as the International Design and Development Award and the Pacific Coast
Builders Design Award two years in a row. Their work includes important cultural and institutional buildings as well as commercial and residential projects. Increasingly recognized as a design leader, their buildings have been published in over a hundred books and magazines in fourteen countries, including The Times in London and several articles in The New York Times.

The office was set up with the aim to build architecturally significant projects, creating iconic buildings in the public realm. The designs are intended to be a rigorous expression of dramatic architectural design, whilst also being sensitive to their context and users. The projects combine the use of technological innovation with poetic and sculptural forms to create a strong sense of "place". Mark Dziewulski is personally involved with each project from start to completion, so that the work reflects an individual and distinctive design sensibility. Each new commission receives a fresh approach based on its contextual and programmatic influences. The office is committed to environmentally sensitive construction and has created several technologically innovative buildings.

The office has substantial experience in a broad range of building types, including cultural, residential and commercial. This variety of work creates many useful advantages because it allows important lessons and techniques to be learned from several different fields and provides a cross-fertilization of ideas, which can be applied to other building types.

Cultural and institutional projects have allowed an opportunity to create significant public work that responds to civic and urban needs. Private houses allow a large degree of creative independence and provide an excellent environment for experimenting with new ideas. These ideas and new forms can then be used as inspiration on larger public buildings. Commercial projects have been an invaluable learning context for high-density public environments, where the need to create identifiable urban landmarks is combined with the requirements for handling large public spaces. The density and high-traffic requirements provide important experience with heavy pedestrian flow and the spaces and materials that can deal with it. In turn, this knowledge is directly relevant for civic and cultural buildings.
... see more