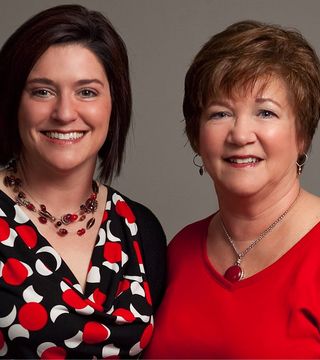 Erin Dunn-Vance & Barbara Dunn-Stear
The Keller Williams Metro Indy Pros Team operates differently from a typical real estate team. What does that mean for you and why should you care?
We're not a factory, churning out listings and sales statistics. We are client focused and customer service driven. We have the latest tools and systems to ensure the highest level of service, but that doesn't mean your file looks like all the rest! We provide individualized buyer and seller plans that fit your lifestyle and preferences. We listen, tailor and target your marketing. We inform and network, advocate and negotiate to find the best outcome for you, our trusted client.
Buying and selling real estate is hard work – we make it easy. Contact us today! We appreciate the opportunity to earn your business & your referrals.
ABOUT US:
Erin is a Greenwood native who has been involved in real estate from the start. She spent 6 years with a commercial developer until the company went public and then 10 years as Senior VP at Citibank before adventuring into residential real estate. She enjoys being active with her 2 children who attend Center Grove, volunteering with the American Diabetes Association & serving on the alumni committee for Leadership Johnson County & the Board of Directors for the Center Grove Education Foundation.
Barbara provides a tremendous amount of experience in land acquisitions and commercial sales and leasing, as well as residential sales & investments. She has brought a well-rounded background and more than 20 years of commercial real estate experience to KW Commercial. A former teacher, retail shop owner, mechanical contracting manager and brokerage owner, Barbara is knowledgeable in the day today decisions business and homeowners face regarding real estate disposition. Barbara has achieved the CCIM designation for commercial work and been awarded the Indianapolis Monthly 5 Star Professional Realtor status for 2010-2104
... see more
Erin Dunn-Vance & Barbara Dunn-Stear hasn't created any Boards yet.