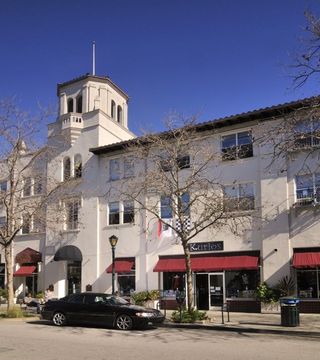 Accommodations at the St. George:
Santa Cruz apartment available now for rent.
The Residences at the St. George is an outstanding place to live, with the convenience of a downtown Santa Cruz location and the amenities that accompany a new and modern facility.
Modern, efficent units are attractivly furnished, sparkling clean and feature individual baths and kitchenettes. Provisions for cable connected TV, phone, broadband internet and fax assure that these rooms meet the needs of today's active individuals.
Enjoy the friendly atmosphere of our beautiful lobby, or just relax and read in our cozy library. A private fitness center and outdoor courtyards provide challenge and variety.
Enjoy feeling the security of knowing that your home at the St. George is a fully modern facility with sprinklered fire protection and controlled access.
Residences at the St. George feature kitchen units complete with microwave ovens and electric ranges, full baths, TV dressers, dining sets, lounge chairs and twin or double beds with night stands.
Bicycle racks, additional storage and a self-service laundry room are all available for your convenience. Your comfort and satisfaction are always the first concern of our full time and professional staff.
With our central location, you can take advantage of the choices downtown Santa Cruz has to offer. Cinemas, resturants, entertainment, shopping, transportation and business opportunities are all at your front door. And the St. George offers a length of stay to meet your needs as well as convenient beach access.
If all of this seems to suggest that the St. George might be just what you are looking for, please consider this your personal invitation to discover us for yourself. Once you do, we're confident you will agree the St. George is a great choice.
... see more
St George Residence hasn't created any Boards yet.