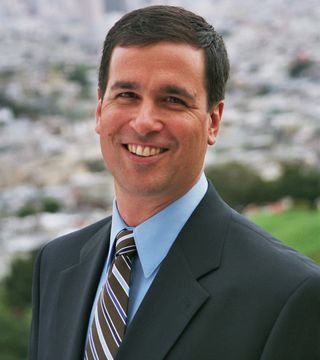 Buyer's Agent, Listing Agent, Foreclosure, Short-Sale, San Francisco, CA
Everyone has dreams in life. Rick Avery is no different. From receiving his education and owning his own business to making a monumental move from New York City to San Francisco, he has continually strived toward his goals with pure resolve, hard work and dedication. He knows that's exactly what it takes to reach them.
Aspirations

Not only did Rick fulfill his dream of attending Georgetown University, he graduated with a degree in accounting and promptly secured an auditor/consultant position with the prestigious accounting firm of Price Waterhouse. After several years in the corporate environment, Rick's entrepreneurial spirit took hold and he went after another dream —opening his own vintage and antique furniture store. He gained notoriety and catered to many well-known designers in the business, dealing with many exclusive clients in the entertainment and fashion industry.
Pursuits

While Rick's professional success has always come from his drive, diligence and ambition, these characteristics are even more profoundly reflected in his hobbies. Nearly five days a week—or more—Rick is up at dawn and headed down to Aquatic Park Cove for his morning swim. However, Rick is not just a sunny weather swimmer. He swims year round in the bay in temperatures that range from 48 to 63 degrees, without a wetsuit.
Ambition

Swimming is an important part of Rick's life and he swims an average of a mile and half per day. In the winter months, the Dolphin Swim Club he belongs to has a polar bear competition, and that's where his focus and dedication really kicks in. In order to receive a trophy, he has to log a minimum of 40 miles during that 90-day period—and, not surprisingly, Rick has been able to log more than 100 miles in that short time.
While Rick feels the greatest sense of satisfaction and exhilaration after completing a vigorous swim, he'll tell you that the first thing he notices when he steps out of the water is the breathtaking view of the city. He loves San Francisco—particularly the downtown lifestyle, the architecture and diverse culture—and he knows what a privilege it is to be able to call this spectacular place his home. It was not accident he ended up in the city. It was a conscious decision, an achievement of one more dream, to move here.
Dreams

Rick is a man who knows what it means to have dreams. From his professional aspirations to his personal achievements, he does what it takes to make them happen. Rick also knows that for many people, living in San Francisco is a dream as well. As a real estate professional specializing in homes in San Francisco, Rick is uniquely qualified to help his clients fulfill that dream. Rick understands the exceptional lifestyle San Francisco offers and he realizes how hard you work to be able to enjoy it. If you are interested in making a move into or out of one of these coveted properties, you owe it to yourself to work with a professional who will listen carefully to your goals. Whether you are looking to make a purchase or sale, Rick will be responsive, and search tirelessly for the perfect property to fit your needs or find a qualified buyer who wants to experience the excitement of living in a home like yours.
Your San Francisco Specialist

Rick has his finger firmly on the pulse of the local market, including current trends and available inventory. As Your San Francisco Specialist, he will do what it takes to help you reach your dreams. Give him a call today. You'll be glad you did.
Rick Avery hasn't created any Boards yet.