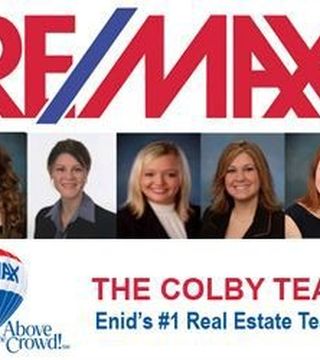 A RE/MAX REALTOR®
YOUR Enid REALTOR for Enid Real Estate!


Vance AFB Relocation Specialist!


style="margin: 0px; padding: 0px;">Prior Military Officer and current Military Spouse with a lifetime of PCS experience!


I am a licensed REALTOR in the state of Oklahoma.


A REALTOR® is a member of the National Association of REALTORS® and subscribes to its strict Code of Ethics.


Real Estate Experience/Specialties
I've been an avid real estate investor since 2001. I thoroughly understand what it takes to locate, negotiate, purchase, and manage different types of investment properties in various market conditions.
About Me
I am a 1999 USAFA graduate and former Air Force Officer with 8 years active duty experience, and currently a military spouse (my husband is a Reserve KC-135 pilot). We've lived in Enid for nearly 7 years, and plan to stay for many more in order to raise our 3 children in this wonderful small town atmosphere. Because of my experience as a service member and spouse, I understand the unique needs of families on the move and work to be your trusted guide in making educated real estate decisions. My number one goal is to look out for YOU and provide exceptional service before, during, and AFTER the sale. I also offer a substantial military discount for sellers as a "Thank You" for your service to our country. Call me today to experience a positive real estate transaction over and above your highest expectations. I am the REALTOR who is truly on your side!
... see more
The Colby Team 2 hasn't created any Boards yet.