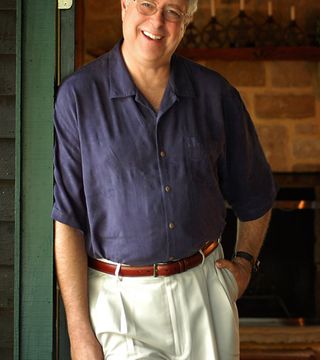 Chris Travis is the Managing Partner and lead residential designer of Sentient Architecture, LLC, a full service architecture firm. He also does residential construction under the dba Truehome Design.Build.

As a designer and general contractor, Mr. Travis has served as consultant and lead designer for residential and historic commercial projects in /??>Texas since 1975. He is an expert in historic design and the restoration of indigenous Texas historic structures.
In 2010, Christopher and his green builder son, Shiloh Travis, joined forces, forming a design/build company called Truehome Design.Build that serves the Austin Environs and South Central Texas.
In past years, Mr. Travis' construction company was named Remodeler of the Year by the Greater Houston Builder's Association. He spoke for several years at the national convention of the National Association of Home Builders. His projects have appeared in The New York Times, Homme Magazine in Greece, Builder magazine, Country Living, Go Magazine (Airtran Airways flight magazine), the Houston Chronicle, the San Antonio Express-News, Cowboys and Indians, Home Companion, Sun Coast Magazine, Texas Live and Texas Highways. His projects also appeared in the two-hour PBS documentary Digital Nation.
Mr. Travis has received considerable academic recognition for his approach to design and the automation of that process via his patent-pending Truehome software.
His process has been endorsed by a number of prominent scientists and academics. The Truehome® process was prominently featured in the book Snoop: What Your Stuff Says About You, by internationally-known behavioral psychologist, Sam Gosling, Ph.D.; named one of the "To Science Books of 2008" by New Scientist Magazine. Dr. Gosling leads a long term research project associated with Travis' methods at the University of Texas, Austin psychology department. Studies from the research have twice been submitted to the annual convention of the American Psychological Association.
Travis' breakthrough approach has been featured in major stories on the cover of the home and lifestyle sections of The New York Times, The Providence Sunday Journal (Providence, RI), the Marin Independent Journal (Marin Co., California) and the San Antonio Express News. Stories about his approach have appeared in Homme Magazine in Greece and The Süddeutsche Zeitung Magazine (the largest circulation subscription daily in Germany) and German popular science magazine Welt der Wunder, The Sydney Morning Herald in Australia, and Go Magazine. He has published papers in Psychitecture (A South African scientific journal) and the conference newsletter for the Center for the Study of Natural Systems and the Family.
... see more