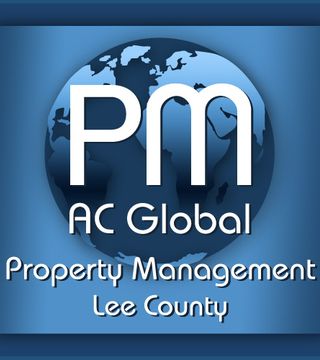 AC Global Property Management Lee Co
Staging, Property Management, Cape Coral, FL
| | | |
| --- | --- | --- |
| Homewatch Service & Property Management for Absentee Ownership in SW Florida from Cape Coral to Fort Myers, Fort Myers Beach, Lehigh Acres, Estero, Bonita Springs & Naples. | | |
class="contentpaneopen">
At AC Global Property Management Lee County LLC, our trained and experienced professionals share a common goal; to build and maintain a strong return on YOUR real estate investment, while eliminating the stress often associated with owning rental property in Florida or being absent during the off-season.

Our residential & vacation Home Watch is a service where the property owner can sit back while we take care of every aspect of your property in SW Florida. A good Home Watch company will handle all maintenance issues, maintain communication with the landlord. 

It doesn't matter if you are a first time investor with one property or a professional investor with a large portfolio to manage, we at AC Global Property Management Lee County, LLC can help you.

It is our job to manage your property so you don't have to worry about your investment in SW Florida. We specialize in residential properties and vacation homes allowing us to provide superior service to our clients.

Florida Vacation Rentals, Vacation Homes for Rent in Florida & Vacation Property Management Services in SW Florida.

AC Global Property Management Lee County LLC is the leading international home watch company & property management & vacation & sesaonal rental company in SW Florida. We are dedicated to make our relationship succeed and strive to offer the most conscientious and professional vacation rental management services available to our clients. We believe that good communication is the key to accomplishing this goal from Cape Coral to Fort Myers, Fort Myers Beach, Estero, Sanibel Island, Bonita Springs, Bonita Beach & Naples.


AC Global Property Management Lee County, LLC:
Unser Leistungsangebot im Bereich Hausverwaltung mit dem Schwerpunkt Wohnimmobilien und Ferienimmobilien in Florida bietet Hauseigentümern, insbesondere Ferienhaus und Ferienwohnungsbesitzern, eine professionelle Unterstützung bei der Verwaltung und Vermietung Ihrer Immobilie in Florida.

Wir sind ein erfahrener Verwaltungsspezialist für Ferienhäuser, bieten unseren Service aber auch Besitzern von privat genutzten Florida Immobilien an.


Unsere Dienstleistungen:
• Vertretung des Hauseigentümers gegenüber den Mietern.
• Vertragsabschluss der Mietverträge für Ferienimmobilien.
• Erledigung des Schriftverkehrs laut Vertrag.

• Vermietung der verwalteten Objekte in Abstimmung mit dem Eigentümer. 

• Erstellen, Überwachung und das Durchsetzen der Hausordnung.

• Abnahme bzw. Übergabe der Mietobjekte mit Protokoll (Check-in und Check-out).

• Beauftragung von Reinigungs-, Garten- und Hausmeistertätigkeiten durch externe Betriebe.
• Beauftragung von Handwerksbetrieben.
• Erfassen aller Einnahmen und Ausgaben. 

• Zahlungsverkehr und abführen von Steuern, Gebühren und Abgaben sowie Rechnungsprüfung.
• Führung der Mietkonten.
• Abrechnung und Überweisung der Netto-Mieten an die Eigentümer. 
• Erstellung einer Gesamtabrechnung.
Technische Verwaltung:
• Überwachung, Wartungsarbeiten, Reparaturen, Filterwechsel, Endreinigungen - je nach Vertrag.

• Erstellung eines Zustandsberichtes mit Empfehlung für Erhaltungs-und Instandsetzungsmassnahmen. 

• Begleitung von Modernisierungsmaßnahmen.

• Einleitung von Sofortmaßnahmen in Notfällen.
Organisation: Einrichtung & Reovierung Ihrer neuen und bestehenden Immobilie.

Wir gehen auf die Wünsche unserer Eigentümer ein, Verwaltungsverträge sind verhandelbar.


... see more