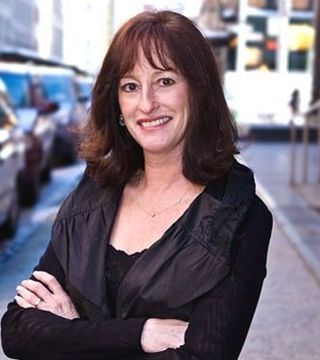 Buyer's Agent, Listing Agent, Relocation, New York, NY
Robin Lyon-Gardiner, a Vice President and Associate Broker at Town Real Estate, is as passionate about New York City as she is New York City Real Estate. Residing on the Upper West Side for 30 years, she has a strong knowledge of the her own neighborhood plus has done deals all over town, from the Upper East Side to Tribeca.
Robin has a great appreciation for loving where you live. Her unsurpassed listening skills have won her the loyalty of both sellers and buyers with whom she has developed lasting, trusting relationships. Thanks to that, Robin enjoys an ever-growing referral business and that is the greatest compliment of all.

Before becoming a Real Estate broker, Robin spent 20 years performing on Broadway as a singer/actress/dancer – something she wanted to do since the age of 16 when she saw her first Broadway play. She graduated from Syracuse University with a BFA in Musical Theatre.

With hard work and tenacity, Robin made her dream come true. Today she does the very same for her Real Estate clients who rely on these qualities to ensure their own success. Robin's discipline as a performer combined with her boundless energy, contagious enthusiasm and keen sense of humor puts sellers and buyers at ease. And her attention to detail instills confidence in clients as she guides them through the intricate purchase or sale process from beginning to end.

When it comes to the art of the deal, Robin draws upon her sharp negotiating skills honed in her performing days. Her knowledge of market trends is also invaluable in pricing sellers' properties competitively so they can achieve the highest price in the shortest timeframe possible. Robin's intuitiveness in choosing properties for buyers is equally impressive. Quite often, they even purchase the first home she presents, because that's how much time she takes to listen and understand their needs.

While she loves her work, Robin's favorite role in life is being mother to her two children, Madison and Michael. They are her inspiration, and continue to bring out the best in her. Raising a family in NYC has allowed Robin to become an expert in schools, classes, restaurants and family needs, which is a real asset for her sellers and buyers with families. Robin is very active in her children's schools. She is an auctioneer at volunteer school auctions, a "wish granter" for the Starlight Foundation, a regular singer of the National Anthem at Madison Square Garden, and a soccer, basketball and tennis mom. Even with all that on her plate, she vows to return to Broadway someday, somehow!

In the words of one of her favorite customers, Keith Olbermann: "I can wholeheartedly recommend Robin Lyon-Gardiner for her diligence, enthusiasm, energy, and – as important as any other element during the arduous and often maddening strain that is real estate—her good humor! It was a pleasure to work with her."

... see more
Robin Lyon-Gardiner hasn't created any Boards yet.