Zillow Mortgages iPhone® App
The Zillow Mortgages iPhone® App is an essential tool for homeowners and shoppers alike. Enjoy easy-to-use calculators, shop customized quotes and more, right on your mobile device.
Determine how much house you can afford
Calculate monthly mortgage payments
Explore refinancing rates and break-even points
Get custom rate quotes from Zillow-trusted lenders
Shop rates for special loan programs such as HARP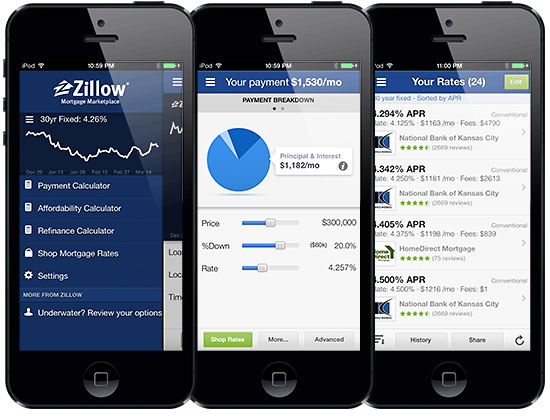 ---
Also on Android:

How much house can you afford? What will your mortgage payment be? Get real-time rates, easy-to-use calculators and more with the Zillow Mortgages Android™ App.
---
Also on iPhone:

Get answers on the most popular real estate app on the iPhone, which also includes a built-in mortgage app.
---