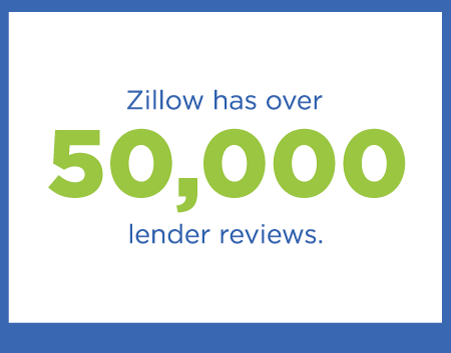 Zillow's goal has always been to empower consumers with information so that they can make more informed decisions.
If you are interested in getting a mortgage, we would encourage you to educate yourself as much as possible about the lender you are considering.
Lender Reviews
Zillow has tens of thousands of lender reviews on our site. Former, potential or existing clients of lenders listed on our site can be reviewed by consumers like you. A dedicated team of specially trained moderators evaluate all reviews before they are published. You can check a lender's reviews while you are shopping in Zillow Mortgage Marketplace or searching our directory.
Comparison Shop on Zillow Mortgage Marketplace
We'd encourage you to check out how the lender you are either thinking of working with or currently are working with compares to lenders on Zillow Mortgage Marketplace by comparison shopping. Zillow Mortgage Marketplace allows consumers to see real-time, side-by-side mortgage quotes from a multitude of lenders. You can sort the customized quotes you receive by what matters most to you such as lender fees, monthly payment or lender rating. Because lenders are competing publicly for your business, the overall rates, fees and customer service you receive on Zillow are second to none.
Check Out Their License Information
Check out your lender's license information on the National NMLS consumer access site (http://www.nmlsconsumeraccess.org/ ). This site provides a free service for consumers to confirm that the financial-services company or professional with whom they wish to conduct business is authorized to conduct business in their state. All lenders who quote on Zillow Mortgage Marketplace have an active and valid mortgage license. You can also find the link to a lender's NMLS license by visiting their Lender Profile in Zillow's professional directory.
Get low rates anonymously from rated & reviewed lenders.
The affordability calculator is calculated based on the percentage of your income spent.
Use this refinance calculator to help you decide if refinancing makes sense for you.