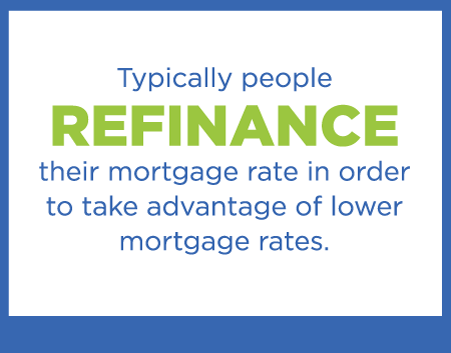 What Is Refinancing?
When you refinance your mortgage, you are applying for a new loan. By refinancing, you are actually paying off the old loan by obtaining a new one.
Because you will be obtaining a new loan with new terms, a lender will have to obtain key information and documentation in order to verify you qualify for a refinance.
Typically the following information will be checked when you apply for refinance:
Your credit score and payment history.
Your income and employment history.
Your assets (stock, retirements and savings accounts).
An appraisal to determine the current value of your home.
Reasons Why Most People Refinance
Typically people refinance their mortgage rate in order to take advantage of lower mortgage rates. Average national mortgage rates have been at historic lows.
Even if you have little equity or are underwater on your mortgage, you still may be able to take advantage of special refinance programs being offered and lower your mortgage rate significantly. Check out our underwater resource center here.
Other Reasons Why People Refinance Their Mortgage
To have a more stable monthly payment. Some people chose to refinance from an adjustable-rate mortgage (ARM) to a fixed-rate mortgage in order to have a more stable and predictable monthly payment.
Your ARM is about to adjust. If you originally obtained a 7/1 ARM and it's been 6 years, you may consider refinancing into another ARM in order to reset your loan.
To withdraw some equity from your house in the form of a cash-back refinance. People typically do this if they have built up significant equity in their home or paid it off completely. Some people use the cash they can get with a cash-back refinance to purchase big-ticket items such as a down payment on a car or another house. Other people may use the cash to pay down credit card debt or other high interest debt they are carrying. Divorce or other family issues may influence a person's decision to need a cash-out refinance.
To consolidate two mortgages. Some people have two mortgages or a mortgage and a home equity line. They may want to refinance both mortgages into one mortgage for simplicity sake.
To put more money down in order to do a cash-in refinance. Cash-in refinances allow you to refinance to a lower rate, shorter loan term, or eliminate mortgage insurance by putting additional money down when you refinance. Putting more money down when you refinance allows you to pay down your overall loan balance and improve your overall loan-to-value ratio and equity in your home.
In general, if you can lower your monthly mortgage payment and offset the costs of refinancing in a reasonable time frame, you should consider refinancing.
To see if refinancing makes sense for your individual situation use our refinance calculator
To shop for real-time refinance quotes, submit an anonymous loan request on Zillow Mortgage Marketplace. In addition to typical refinances, Zillow Mortgage Marketplace allows you to search for cash-out, HARP and FHA streamline refinance quotes.
Get low rates anonymously from rated & reviewed lenders.
The affordability calculator is calculated based on the percentage of your income spent.
Use this refinance calculator to help you decide if refinancing makes sense for you.