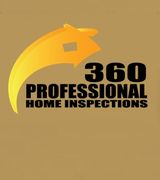 360 Professional Home Inspection
Specialties:

Consulting,
Inspection
Add personality to your profile! Tell the community about yourself, your home, and your profession.
360 Professional Home Inspections has been serving Sacramento and surrounding Counties since 2002. Every inspection is completed in accordance with exacting standards. Every house is someone's home, whether it is brand new or a 100 year old heritage home, a luxury walkout or a townhouse condominium. The inspection report will always be objective, unbiased, reliable, thorough and with uncompromising integrity.
Jeff Schwedhelm is the proud owner and operator of 360 Professional Home Inspections. Completing over 4,000 inspections since 2002, Jeff has a wealth of knowledge regarding the homes located in the greater Sacramento/San Joaquin Valleys. His attention to detail has made him one of the most requested home inspectors by real estate agents in this area. Jeff's home inspection will be 2-3 hours in duration and clients are encouraged to be present. This will provide an opportunity to become more familiar with the home and ask any questions you may have. When the inspection process is complete, the report will be printed on-site and reviewed with you to ensure you have a comprehensive understanding of the home's features.
More
Less
About 360 Professional Home Inspection: <!--[if gte mso 9]><xml> <o:OfficeDocumentSettings> <o:AllowPNG/> </o:OfficeDocumentSettings> </xml><![endif]--><!--[if gte mso 9]><xml> <m:mathPr> <m:mathFont m:val="Cambria Math"/> <m:brkBin m:val="before"/> <m:brkBinSub m:val="&#45;-"/> <m:smallFrac m:val="off"/> <m:dispDef/> <m:lMargin m:val="0"/> <m:rMargin m:val="0"/> <m:defJc m:val="centerGroup"/> <m:wrapIndent m:val="1440"/> <m:intLim m:val="subSup"/> <m:naryLim m:val="undOvr"/> </m:mathPr></w:WordDocument> </xml><![endif]--><!--[if gte mso 9]><xml> </xml><![endif]--><!--[if gte mso 10]> <style> /* Style Definitions */ table.MsoNormalTable {mso-style-name:"Table Normal"; mso-style-parent:""; line-height:115%; font-size:11.0pt; font-family:"Calibri","sans-serif"; mso-bidi-font-family:"Times New Roman";} </style> <![endif]--> <p class="MsoNormal">360 Professional Home Inspections has been serving Sacramento and surrounding Counties since 2002.&nbsp; Every inspection is completed in accordance with exacting standards. Every house is someone's home, whether it is brand new or a 100 year old heritage home, a luxury walkout or a townhouse condominium. The inspection report will always be objective, unbiased, reliable, thorough and with uncompromising integrity.</p><p class="MsoNormal">Jeff Schwedhelm is the proud owner and operator of 360 Professional Home Inspections. Completing over 4,000 inspections since 2002, Jeff has a wealth of knowledge regarding the homes located in the greater Sacramento/San Joaquin Valleys. His attention to detail has made him one of the most requested home inspectors by real estate agents in this area. Jeff's home inspection will be 2-3 hours in duration and clients are encouraged to be present. This will provide an opportunity to become more familiar with the home and ask any questions you may have. When the inspection process is complete, the report will be printed on-site and reviewed with you to ensure you have a comprehensive understanding of the home's features.</p>