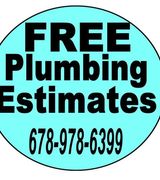 Specialties:

Plumbing
Add personality to your profile! Tell the community about yourself, your home, and your profession.
FREE ESTIMATES AND LOWER RATES...We will save you time and money....All plumbing services are done by Licensed Plumbers, insured, bonded offering the BEST SERVICE at the BEST RATES
Residential and Commercial properties
Stop paying inflated rates and trip charges for commission plumbers...We know what they are quoting for plumbing services and our rates are lower..Atlanta Area Plumbing has been proudly serving the Atlatna Metro Area for over 15 years...We will save you time and money
Water Heaters..Leaks, repair, replace, install, upgrade, electric, gas
Tankless Water Heaters..Certified Installers
Thermal expansion tanks
Code upgrades
Sewer and Drains
Clogged lines, Lines snaked out, Slow drains
Tap locations, cleanouts
Sewer ejector and sump pumps
Roots in lines
Broken lines
Water leaks
High water bills, leaks in ceilings, floors, walls, meters, yards, slow leaks, broken pipes, blue poly, copper, galvanized, pvc, leaking pipes, leaks under driveways and more..
Slab leaks
Toilets, showers, tubs, sinks, faucets
Garbage disposals, valves, leaks, wax rings
Supply lines, laundry lines, ice maker lines, gas lines
Hosebibs
PRV..Pressure Problems
Check valves
Remodels
Additions
Re pipes
Stolen copper lines
and more....
Log on to see our complete list of services or call and start saving on all your plumbing needs
http://www.AtlantaAreaPlumbing.net
678-880-7976
All plumbing services 100% Guaranteed
Military and Senior Discounts
Coupons available on our website
Call today and get your plumbing services done right the first time at a rate you can actually afford.
Unrestricted Master Plumber, Licensed, Bonded, Insured, BBB Member, Residential, Commercial, Rental Properties
More
Less
About Atlanta Area Plumbing: FREE ESTIMATES AND LOWER RATES...We will save you time and money....All plumbing services are done by Licensed Plumbers, insured, bonded offering the BEST SERVICE at the BEST RATES<br/><br/>Residential and Commercial properties<br/><br/>Stop paying inflated rates and trip charges for commission plumbers...We know what they are quoting for plumbing services and our rates are lower..Atlanta Area Plumbing has been proudly serving the Atlatna Metro Area for over 15 years...We will save you time and money<br/><br/>Water Heaters..Leaks, repair, replace, install, upgrade, electric, gas<br/>Tankless Water Heaters..Certified Installers<br/>Thermal expansion tanks<br/>Code upgrades<br/><br/>Sewer and Drains<br/>Clogged lines, Lines snaked out, Slow drains<br/>Tap locations, cleanouts<br/>Sewer ejector and sump pumps<br/>Roots in lines<br/>Broken lines<br/><br/>Water leaks<br/>High water bills, leaks in ceilings, floors, walls, meters, yards, slow leaks, broken pipes, blue poly, copper, galvanized, pvc, leaking pipes, leaks under driveways and more..<br/>Slab leaks<br/><br/>Toilets, showers, tubs, sinks, faucets<br/>Garbage disposals, valves, leaks, wax rings<br/>Supply lines, laundry lines, ice maker lines, gas lines<br/><br/>Hosebibs<br/>PRV..Pressure Problems<br/>Check valves<br/><br/>Remodels<br/>Additions<br/>Re pipes<br/>Stolen copper lines<br/><br/>and more....<br/><br/>Log on to see our complete list of services or call and start saving on all your plumbing needs<br/><br/><a rel="nofollow" href="http://www.atlantaareaplumbing.net/">http://www.AtlantaAreaPlumbing.net</a><br/><br/>678-880-7976<br/><br/>All plumbing services 100% Guaranteed<br/><br/> Military and Senior Discounts<br/> Coupons available on our website<br/><br/> Call today and get your plumbing services done right the first time at a rate you can actually afford.<br/><br/><br/>Unrestricted Master Plumber, Licensed, Bonded, Insured, BBB Member, Residential, Commercial, Rental Properties