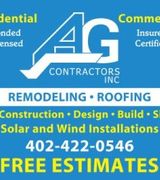 Remodeling / Construction / Roofing
Specialties:

Carpentry,
General Contracting,
Interior Design,
Remodeling Roofing Construction
Add personality to your profile! Tell the community about yourself, your home, and your profession.
Since 1995, AG Contractors, Inc. has been servicing the Omaha, Lincoln and Council Bluffs areas with the very best in residential and commercial contracting. Omaha based AG Contractors started with myself, Rob Sawaged, a Construction and Design Engineer Tech. and grew into a prominent construction company in Omaha, Nebraska. Our Omaha based team specializes in all aspects of construction ranging from a simple exterior paint job to a complete restoration of your home or business. Notably, we pride ourselves on being on the Better Business Bureau's Honor Role for 9 straight years and are a proud NARI member (National Association of the Remodeling Industry). From small home improvements to large commercial jobs and everything in between; AG Contractors has the experience and resources available to perform both reasonably priced as well as high quality contracting services.
In 2009, AG Contractors in Omaha decided to branch out into new areas with the addition of a new division, AG Energy Solutions. This division is devoted to renewable energy sources, energy conservation and education. We started this division because we feel that technology and information go hand in hand when it comes to saving people money and helping the environment. Our company now carries high quality small wind turbines, solar panels as well as conventional energy saving items such as insulated vinyl siding, ventilation systems, insulation and other energy saving items.
Lastly, AG Contractors in Omaha has a motto: "Business is good as long as the customer is happy and satisfied with our work". We have seen this motto develop into repeat customers and new customers by word of mouth. In addition, we are here for our customers to insure that the work is done on time and on budget, all while maintaining quality and professionalism. Our team is ready to listen to your concerns and answer any questions that you or your company may have.
Thank you for visiting our website and we look forward to hearing from you soon.
Sincerely,
Rob Sawaged, Owner
More
Less
About AG Contractors Inc.: <p>Since 1995, AG Contractors, Inc. has been servicing the Omaha, Lincoln and Council Bluffs areas with the very best in residential and commercial contracting. Omaha based AG Contractors started with myself, Rob Sawaged, a Construction and Design Engineer Tech. and grew into a prominent construction company in Omaha, Nebraska. Our Omaha based team specializes in all aspects of construction ranging from a simple exterior paint job to a complete restoration of your home or business. Notably, we pride ourselves on being on the Better Business Bureau's Honor Role for&nbsp;<strong>9 straight years</strong>&nbsp;and are a proud NARI member (National Association of the Remodeling Industry). From small home improvements to large commercial jobs and everything in between; AG Contractors has the experience and resources available to perform both reasonably priced as well as high quality contracting services.</p><p>In 2009, AG Contractors in Omaha decided to branch out into new areas with the addition of a new division,&nbsp;<font>AG Energy Solutions</font>. This division is devoted to renewable energy sources, energy conservation and education. We started this division because we feel that technology and information go hand in hand when it comes to saving people money and helping the environment. Our company now carries high quality small wind turbines, solar panels as well as conventional energy saving items such as insulated vinyl siding, ventilation systems, insulation and other energy saving items.</p><p>Lastly, AG Contractors in Omaha has a motto: "Business is good as long as the customer is happy and satisfied with our work". We have seen this motto develop into repeat customers and new customers by word of mouth. In addition, we are here for our customers to insure that the work is done on time and on budget, all while maintaining quality and professionalism. Our team is ready to listen to your concerns and answer any questions that you or your company may have.</p><p>Thank you for visiting our website and we look forward to hearing from you soon.</p><p>Sincerely,<br/>Rob Sawaged,&nbsp;<em>Owner</em></p>