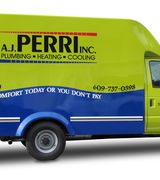 Master Plumber, Home Improvement Contractor (44 years experience)
Specialties:

Plumbing,
Heating & Cooling
Add personality to your profile! Tell the community about yourself, your home, and your profession.
With 40+ years in the heating, air conditioning and plumbing industry, A.J. Perri is a family-owned business dedicated to providing total home comfort for New Jersey residents.

We ensure your comfort by evaluating your entire home heating and cooling system, as well as the environmental and physical factors that can affect the comfort level in your home. Our all-inclusive approach lets us devise an optimal comfort plan for your home that won't break your budget. This results in cost-effective solutions that make your house worth coming home to.

A.J. Perri got its start in 1971. Our company has grown over the years from 3 to more than 250 associates and a fleet of more than 120 service vehicles. These men and women represent the A.J. Perri name and hold to a reputation of exceptional customer service. At A.J. Perri, we believe that our quality workmanship, complete dedication to customer satisfaction and comprehensive solutions make our business stand out and rise to the top.

The A.J. Perri family is proud to extend our success to the community as well ... whether it's hammering for a few hours for Habitat for Humanity or sponsoring children through the Community YMCA and numerous youth and school teams throughout our service area.

We anticipate growing both the A.J. Perri family as well as our family of clients, those who have welcomed us into their residences to provide them with the utmost in home comfort services. We take great pride in our contributions to the community and look forward to serving New Jersey families for many years to come.
More
Less
About AJ Perri: With 40+ years in the heating, air conditioning and plumbing industry, A.J. Perri is a family-owned business dedicated to providing total home comfort for New Jersey residents.<br/><br/>We ensure your comfort by evaluating your entire home heating and cooling system, as well as the environmental and physical factors that can affect the comfort level in your home. Our all-inclusive approach lets us devise an optimal comfort plan for your home that won't break your budget. This results in cost-effective solutions that make your house worth coming home to.<br/><br/>A.J. Perri got its start in 1971. Our company has grown over the years from 3 to more than 250 associates and a fleet of more than 120 service vehicles. These men and women represent the A.J. Perri name and hold to a reputation of exceptional customer service. At A.J. Perri, we believe that our quality workmanship, complete dedication to customer satisfaction and comprehensive solutions make our business stand out and rise to the top.<br/><br/>The A.J. Perri family is proud to extend our success to the community as well ... whether it's hammering for a few hours for Habitat for Humanity or sponsoring children through the Community YMCA and numerous youth and school teams throughout our service area.<br/><br/>We anticipate growing both the A.J. Perri family as well as our family of clients, those who have welcomed us into their residences to provide them with the utmost in home comfort services. We take great pride in our contributions to the community and look forward to serving New Jersey families for many years to come. &nbsp;