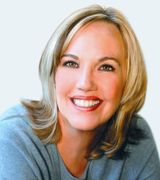 Specialties:

Buyer's Agent,
Listing Agent
Add personality to your profile! Tell the community about yourself, your home, and your profession.
The saying goes "there is more to being an exceptional real estate agent than what meets the eye." But in the case of Barbara Dunlap it is precisely her fine-tuned sense of "what meets the eye" that elevates her in the eyes of sellers and buyers.
You can't buy a sense of style. It comes as a natural gift and is honed through learning and experience. With the formal study of literature, cinema, creative writing, marketing, and sales; Barbara developed both an acute sense of style and the necessary skills to promote it.
Barbara understands which property features will excite buyers, and she works with her sellers to accentuate those features for maximum appeal. Applying her marketing talents and creative instincts, she can tease out emotional appeal from any property.
For sellers this means higher sale prices and faster sales in today's challenging market. Putting her talents to work for sellers, Barbara has set benchmark prices in Cole Valley, Haight, Ashbury Heights, Eureka Heights and Pacific Heights.
For buyers she provides invaluable insight into a property's positive and negative aspects. She can see the potential or weakness of a property that others might overlook.
Most important to both buyers and sellers is Barbara's dedication and service, her attention to detail, and her outstanding negotiating skills.
Prior to her career in real estate Barbara was Vice President of Marketing and Creative Director for the original Victoria's Secret. At the San Francisco startup company she was in charge of building and positioning Victoria's Secret's powerful brand through her innovative advertising, PR, and strategic marketing campaigns. After Victoria's Secret she founded an award-winning fashion advertising agency in downtown San Francisco.
Barbara is a member of the Women's Council of Realtors, the San Francisco Film Society and the de Young Museum. She has lived and worked in San Francisco for over 30 years. Outside of real estate Barbara is passionate about the art of cinema, classic literature, vintage cars and the natural beauty of Northern California.
Perhaps her greatest passion is helping people establish their roots through homeownership in the city she loves.
More
Less
About Barbara Dunlap: <p class="MsoNormal">The saying goes "there is more to being an exceptional real estate agent than what meets the eye."&nbsp; But in the case of Barbara Dunlap it is precisely her fine-tuned sense of "what meets the eye" that elevates her in the eyes of sellers and buyers.</p><p class="MsoNormal">You can't buy a sense of style. It comes as a natural gift and is honed through learning and experience. With the formal study of literature, cinema, creative writing, marketing, and sales; Barbara developed both an acute sense of style and the necessary skills to promote it.</p><p class="MsoNormal">Barbara understands which property features will excite buyers, and she works with her sellers to accentuate those features for maximum appeal. Applying her marketing talents and creative instincts, she can tease out emotional appeal from any property.</p><p class="MsoNormal">For sellers this means higher sale prices and faster sales in today's challenging market. Putting her talents to work for sellers, Barbara has set benchmark prices in Cole Valley, Haight, Ashbury Heights, Eureka Heights and Pacific Heights.</p><p class="MsoNormal">For buyers she provides invaluable insight into a property's positive and negative aspects. She can see the potential&nbsp;or weakness of a property that others might&nbsp;overlook.</p><p class="MsoNormal">Most important to both buyers and sellers is Barbara's dedication and service, her attention to detail, and her outstanding negotiating skills.</p><p class="MsoNormal">Prior to her career in real estate Barbara was Vice President of Marketing and Creative Director for the original Victoria's Secret. At the San Francisco startup company she was in charge of building and positioning Victoria's Secret's powerful brand through her innovative advertising, PR, and strategic marketing campaigns. After Victoria's Secret she founded an award-winning fashion advertising agency in downtown San Francisco.</p><p class="MsoNormal">Barbara is a member of the Women's Council of Realtors, the San Francisco Film Society and the de Young Museum. She has lived and worked in San Francisco for over 30 years. Outside of real estate Barbara is passionate about the art of cinema, classic literature, vintage cars and the natural beauty of Northern California.</p><p class="MsoNormal">Perhaps her greatest passion is helping people establish their roots through homeownership in the city she loves.</p>
Property Address
Represented
Sold Date
Price