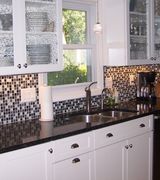 Home Design & Construction
Specialties:

Home Building,
Carpentry,
General Contracting,
Remodeling
Add personality to your profile! Tell the community about yourself, your home, and your profession.
About C & M Remodeling
A good remodeler has experience and skill. A great remodeler has integrity, too...
We Earn Your Business Because Qaulity is Our Passion


C and M Remodeling's professional attitude and capable craftsmanship show through in all our work. With well over a decade of quality completions, no one is more qualified to estimate the cost of your project, and see that it is completed right, on budget and on time.


All projects begin with an estimate, which sets the tone, pace (and of course, price) for any home improvement, rennovation or construction project. Many contractors underestimate the importance of getting this step right. They will "buy your bid" with a lower initial estimate, only to raise it halfway through the job.

A good remodeler has experience and skill - a great remodeler has integrity, too. They say you can not put a price on having your project go smoothly, get done on time and look better than even you envisioned it. We think they're wrong. We can and do put a price on quality, we give it to you up front and we stick to it. As a result, you can always find someone cheaper, because someone can always do cheaper work.

We have lost the job to low-price contractors in the past, only to get a call back asking us to come in and re-do their project right.

Reality based estimating is not always the cheapest, but it is the best friend you've got when trusting improvement projects to a professional. It demonstrates a remodeler's sense of integrity, because the way someone prices is a very good indication of the way they work.

We take pride in our work so you can take pride in your home. Please call (402) 510-2571 or request an estimate for quality work and an accurate and honest estimate so we can get to work for you!
More
Less
About C and M Remodeling: <p>About C &amp; M Remodeling</p><div style="text-align: right;"><strong><em>&nbsp; &nbsp; &nbsp; &nbsp; A good remodeler has experience and skill. A great remodeler has integrity, too...</em></strong><h3>We Earn Your Business Because Qaulity is Our Passion</h3><br/><br/>C and M Remodeling's professional attitude and capable craftsmanship show through in all our work. With well over a decade of quality completions, no one is more qualified to estimate the cost of your project, and see that it is completed right, on budget and on time.<br/><br/><br/>All projects begin with an estimate, which sets the tone, pace (and of course, price) for any home improvement, rennovation or construction project. Many contractors underestimate the importance of getting this step right. They will "buy your bid" with a lower initial estimate, only to raise it halfway through the job.<br/><br/>A good remodeler has experience and skill - a&nbsp;<strong>great remodeler has integrity, too</strong>. They say you can not put a price on having your project go smoothly, get done on time and look better than even you envisioned it. We think they're wrong. We can and do put a price on quality, we give it to you up front and we stick to it. As a result, you can always find someone cheaper, because someone can always do cheaper work.<br/><br/>We have lost the job to low-price contractors in the past, only to get a call back asking us to come in and re-do their project right.<br/><br/>Reality based estimating is not always the cheapest, but it is the best friend you've got when trusting improvement projects to a professional. It demonstrates a remodeler's sense of integrity, because the way someone prices is a very good indication of the way they work.<br/><br/>We take pride in our work so you can take pride in your home. Please call&nbsp;<strong>(402) 510-2571&nbsp;</strong>or&nbsp;request an estimate&nbsp;&nbsp;for quality work and an accurate and honest estimate so we can get to work for you!</div>