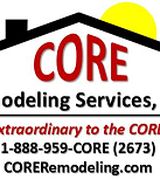 Owner, Construction Supervisor, Home Improvement Contractor (3 years experience)
Specialties:

Carpentry,
General Contracting,
Kitchen, Bathrooms, Sunroom's
Add personality to your profile! Tell the community about yourself, your home, and your profession.
CORE Remodeling Services, Inc.
provides remodeling services for home owners, eldercare providers and realtors. We are committed to providing quality workmanship and developing long-term relationships with our customers. We will exceed expectations and gain their trust through superior performance by every member of our team. We will do this by being the most responsive, professional and ethical company in the business. Check out our ratings on Angie's List!
Services:
Bathroom Remodeling / Update
Basement Remodeling
Multi Room Remodeling
Attic Remodeling
Garages or Carports
Decks / Patio's / Sunroom's
Wall Removal
Window Additions
Window & Door Replacement
Sky lights
Wheelchair / Accessibility Ramps
Accessibility/Disability Modifications
Rot Repair
There are many types of remodeling, we just cannot list them all. What we can do is tell you we can help you with any of them. The CORE team is here to help you get what you need done, DONE! If for some reason, we cannot do it, we will get you to a trusted company that can help you. Just call!
More
Less
About CORE Remodeling: <strong>CORE&nbsp;Remodeling Services, Inc.</strong> provides remodeling services for home owners, eldercare providers and realtors. We are committed to providing quality workmanship and developing long-term relationships with our customers. We will exceed expectations and gain their trust through superior performance by every member of our team. We will do this by being the most responsive, professional and ethical company in the business. Check out our ratings on Angie's List! <p>Services:&nbsp;</p> <li>Bathroom Remodeling / Update</li> <li>Basement Remodeling</li> <li>Multi Room Remodeling</li> <li>Attic Remodeling</li> <li>Garages or Carports</li> <li>Decks / Patio's / Sunroom's</li> <li>Wall Removal</li> <li>Window Additions</li> <li>Window &amp; Door Replacement</li> <li>Sky lights</li> <li>Wheelchair / Accessibility Ramps</li> <li>Accessibility/Disability Modifications</li> <li>Rot Repair</li> <li> </li> <li>There are many types of remodeling, we just cannot list them all. What we can do is tell you we can help you with any of them. The <strong>CORE</strong> team is here to help you get what you need done, DONE! If for some reason, we cannot do it, we will get you to a trusted company that can help you. Just call!</li> <br/> <br/> <p> </p> <p> <br/> </p>