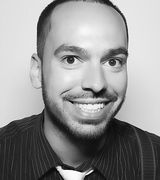 Credit Repair & Business Credit, Credit Repair and FICO Specialist (9 years experience)
Specialties:

Credit Improvement,
Credit Repair,
Credit Restoration,
Credit Fix
Add personality to your profile! Tell the community about yourself, your home, and your profession.
My name is
Jesse Rodriguez
. I live in Seattle, WA and I have a passion for improving consumers Credit Scores. I am the Sr. Credit Advisor for
Seattle Credit Repair Company
Cobalt Credit Services
Over the past 5 years, I've made it my personal mission to utilize cutting edge credit rebuilding techniques, shared only within top-secret mastermind groups, to significantly improve your credit scores... With GUARANTEED Results!
I was once plagued with bad credit: Collection accounts, a Repossession, and Charged-off Credit Cards. My credit was devastated; I couldn't get approved for a CELL PHONE, let alone a credit card, car loan or ANYTHING else
****No school teaches you about managing your credit, HOW your credit score works, or how to BUILD CREDIT****
So...
I hired a "credit repair" company based out of Portland, Maine and paid them thousands of dollars for "guaranteed results." Months passed... Yes, they had sent letters on my behalf, but I had not seen an increase in my credit score. I felt like there was no hope. I felt like giving up. I just wanted to OWN A HOME someday and not feel the intense pressure of having UGLY credit. After 8 months of working with an *unnamed* credit repair company, I had to file a lawsuit, won, and was awarded my money back.
Winning the lawsuit gave me the motivation to learn about credit reporting laws, the fair debt collection practices act, the fair credit reporting act and HIPAA. These are all laws put in place to protect YOU. I studied for up to 14 hours a day, trying to find a way to repair and rebuild my own credit. My studies consumed me and I was determined to fix my own credit at any cost.
In April 2008, I met my mentors, the men that would change my entire life---and my credit score --- FOREVER. I cannot reveal their names because one of them used to be a top level CEO for one of the three major credit bureaus... Oops, I might have already said too much. I paid $6,800 to join a 3 day mastermind group that LEAKED top-level credit secrets, sharing them with me. This was the best information I had ever received in my life.
September 2008 (6 months later): Since implementing what I had learned at the mastermind group, my score was already up +149 points... AND I was approved for a $25,000 UNSECURED credit card. My mind was BLOWN! I had done it. I did the IMPOSSIBLE. I fixed my own credit!!
But WAIT, there was a PROBLEM... This opened the flood gates!!! Once I told my friends and family about my credit-successes, they were all knocking on my door with cash-in-hand, asking me to fix their credit too. I had no idea that SO MANY people needed help. Then it all clicked, the money I paid for the mastermind training was an investment... I needed to use those secrets to help others!
TRUTH IS, the banks aren't on your team, the credit bureaus aren't on your team -- WHY? -- Because they make MORE money when you have BAD credit!!
I AM ON YOUR TEAM!!
My name is Jesse Rodriguez... My passion is helping people like you, families like yours, improve and maximize your Credit Scores. I feel a great sense of accomplishment and pride when a client of mine gets into their first home, or gets approved for a low rate loan.

Visit our website: BetterCreditGuaranteed.com
Or Call us today: 1-800-216-2725
More
Less
About Jesse Rodriguez: My name is <a rel="nofollow" href="http://www.facebook.com/JesseRodriguezCreditAdvisor">Jesse Rodriguez</a>. I live in Seattle, WA and I have a passion for improving consumers Credit Scores. I am the Sr. Credit Advisor for <a rel="nofollow" href="http://www.cobaltcr.com">Seattle Credit Repair Company</a> Cobalt Credit Services<p>Over the past 5 years, I've made it my personal mission to utilize cutting edge credit rebuilding techniques, shared only within top-secret mastermind groups, to significantly improve your credit scores... With GUARANTEED Results!</p><p>I was once plagued with bad credit: Collection accounts, a Repossession, and Charged-off Credit Cards. My credit was devastated; I couldn't get approved for a CELL PHONE, let alone a credit card, car loan or ANYTHING else</p><p>****No school teaches you about managing your credit, HOW your credit score works, or how to BUILD CREDIT****</p><p>So...<br/>I hired a "credit repair" company based out of Portland, Maine and paid them thousands of dollars for "guaranteed results." Months passed... Yes, they had sent letters on my behalf, but I had not seen an increase in my credit score. I felt like there was no hope. I felt like giving up. I just wanted to OWN A HOME someday and not feel the intense pressure of having UGLY credit. After 8 months of working with an *unnamed* credit repair company, I had to file a lawsuit, won, and was awarded my money back.</p><p>Winning the lawsuit gave me the motivation to learn about credit reporting laws, the fair debt collection practices act, the fair credit reporting act and HIPAA. These are all laws put in place to protect YOU. I studied for up to 14 hours a day, trying to find a way to repair and rebuild my own credit. My studies consumed me and I was determined to fix my own credit at any cost.</p><p>In April 2008, I met my mentors, the men that would change my entire life---and my credit score --- FOREVER. I cannot reveal their names because one of them used to be a top level CEO for one of the three major credit bureaus... Oops, I might have already said too much. I paid $6,800 to join a 3 day mastermind group that LEAKED top-level credit secrets, sharing them with me. This was the best information I had ever received in my life.</p><p>September 2008 (6 months later): Since implementing what I had learned at the mastermind group, my score was already up +149 points... AND I was approved for a $25,000 UNSECURED credit card. My mind was BLOWN! I had done it. I did the IMPOSSIBLE. I fixed my own credit!!</p><p>But WAIT, there was a PROBLEM... This opened the flood gates!!! Once I told my friends and family about my credit-successes, they were all knocking on my door with cash-in-hand, asking me to fix their credit too. I had no idea that SO MANY people needed help. Then it all clicked, the money I paid for the mastermind training was an investment... I needed to use those secrets to help others!</p><p>TRUTH IS, the banks aren't on your team, the credit bureaus aren't on your team -- WHY? -- Because they make MORE money when you have BAD credit!!</p><p>I AM ON YOUR TEAM!!</p><p>My name is Jesse Rodriguez... My passion is helping people like you, families like yours,&nbsp;<a rel="nofollow" href="http://BetterCreditGuaranteed.com">improve and maximize your Credit Scores</a>. I feel a great sense of accomplishment and pride when a client of mine gets into their first home, or gets approved for a low rate loan.<br/><br/>Visit our website: <a rel="nofollow" href="http://www.BetterCreditGuaranteed.com">BetterCreditGuaranteed.com</a><br/>Or Call us today: 1-800-216-2725</p>