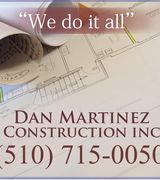 Dan Martinez Construction
Construction with integrity , General Contractor's B License
Specialties:

Carpentry,
Electrical,
General Contracting,
Kitchen & bath remodeling
Add personality to your profile! Tell the community about yourself, your home, and your profession.
Much of our recent work has centered on serving homeowners in Piedmont, Montclair, Adams Point, Berkeley, and the surrounding communities. The skilled DMC crew has designed and built a vast array of projects— especially kitchens, baths, and home additions — for hundreds of satisfied clients over the years.
We are a full-service company, offering everything from design services to permit applications and processing and construction, taking you all the way through to project completion. We have been working in the Bay Area for more than 20 years and have a strong and loyal client list. Our excellent employees take pride in a job well done and have been with us for many years. In addition to working for individual home owners, we have many years of experience with income property repairs and maintenance, and we understand the needs of other property owners from our personal experiences.
We expand our services to suit the current economy and your environmental concerns. So, we do your upgrades and also assist homeowners with rebates and tax credits for toilets, windows, doors, washers and dryers, roofs, and insulation. From paperwork to new stairways, we will do what you need, politely and efficiently.\
We are licensed, bonded, and insured. Our California Contractor's License # is B 551167.

More
Less
About Dan Martinez Construction: <ul class="listborder"><li style="background-color: transparent; border-width: 0px 0px 1px; border-bottom-style: dotted; border-bottom-color: black; margin: 0px; padding: 0.5em 0px; text-align: left;">Much of our recent work has centered on serving homeowners in Piedmont, Montclair, Adams Point, Berkeley, and the surrounding communities.&nbsp;The skilled DMC crew has designed and built a vast array of projects&mdash; especially kitchens, baths, and home additions &mdash; for hundreds of satisfied clients over the years.</li></ul><div><br/>We are a full-service company, offering everything from design services to permit applications and processing and construction, taking you all the way through to project completion.&nbsp; We have been working in the Bay Area for more than 20 years and have a strong and loyal client list.&nbsp; Our excellent employees take pride in a job well done and have been with us for many years.&nbsp; In addition to working for individual home owners, we have many years of experience with income property repairs and maintenance, and we understand the needs of other property owners from our personal experiences.<br/><br/>We expand our services to suit the current economy and your environmental concerns. So, we do your upgrades and also assist homeowners with rebates and tax credits for toilets, windows, doors, washers and dryers, roofs, and insulation. From paperwork to new stairways, we will do what you need, politely and efficiently.\<br/><br/><br/><div>We are licensed, bonded, and insured.&nbsp; Our California Contractor's License # is B 551167.<br/></div></div>