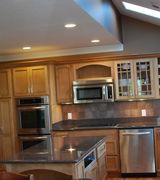 Design Contractor (25 years experience)
Specialties:

Carpentry,
General Contracting,
Landscaping,
Painting
Add personality to your profile! Tell the community about yourself, your home, and your profession.
WE SPECIALIZEin High-quality, original, "one-of-a-kind" interiors and exteriors, products and services. All of our work is done with the most precision, neatness, and attention to detail. Our customers are important to us, and therefore we try to provide the best customer service possible and competitive prices.

WE UNDERSTANDthat our clients have busy work schedules, family schedules, and may know what they want, but don't know where to get it, or how to put it all together. We understand that our clients are looking for the best work ethics, products, and services.

WE BRING IT ALL TO YOU....That's the best part, you never have to leave your home or office. Our designers, consultants, and installers, are specialists in their fields. We have accounts with every type of vendor and dealer to complete your design project and give it that "one-of-a- kind" finished custom look that sets your project apart from any other.

Design Concepts Expert Contractors, Inc, Your ONE SOURCE...One friendly and professional staff, one set of keys, one Peace of Mind!!!!







More
Less
About DesignConcepts4u: <table width="1048" border="0"><tbody><tr height="468"><td width="1040" height="468"><div align="center"><table width="1048" border="0"><tbody><tr height="468"><td width="1040" height="468"><p align="left"><font><em><strong>WE SPECIALIZE</strong></em><strong><em>in High-quality, original, "one-of-a-kind" interiors and exteriors, products and services. All of our work is done with the most precision, neatness, and attention to detail. Our customers are important to us, and therefore we try to provide the best customer service possible and competitive prices.</em></strong></font></p><p align="left"><strong><em><font>WE UNDERSTANDthat our clients have busy work schedules, family schedules, and may know what they want, but don't know where to get it, or how to put it all together. We understand that our clients are looking for the best work ethics, products, and services.</font></em></strong></p><p align="left"><strong><em><font>WE BRING IT ALL TO YOU....That's the best part, you never have to leave your home or office. Our designers, consultants, and installers, are specialists in their fields. We have accounts with every type of vendor and dealer to complete your design project and give it that "one-of-a- kind" finished custom look that sets your project apart from any other.</font></em></strong></p><p align="left"><strong><em><font>Design Concepts Expert Contractors, Inc, Your ONE SOURCE...One friendly and professional staff, one set of keys, one Peace of Mind!!!!<br/><br/></font></em></strong></p></td></tr></tbody></table></div></td><td width="7" height="468"/><td width="1" height="468"><spacer height="468" width="1" type="block"/><br/><br/><br/></td></tr><tr height="1"><td width="1040" height="1"><spacer height="1" width="1040" type="block"/></td><td width="7" height="1"><spacer height="1" width="7" type="block"/></td><td width="1" height="1"/></tr></tbody></table><div><table width="1303" border="0"><tbody><tr height="48"><td align="left" width="176" height="48"/><td align="left" width="720" height="48"/><td width="32" height="48"/><td align="left" width="176" height="48"/><td align="left" width="198" height="48"/><td width="1" height="48"><spacer height="48" width="1" type="block"/></td></tr><tr height="37"><td align="left" width="192" height="37"/><td align="left" width="192" height="37"/><td align="left" width="512" height="37"/><td align="left" width="192" height="37"/><td align="left" width="214" height="37"/><td width="1" height="37"><spacer height="37" width="1" type="block"/></td></tr><tr height="1"><td width="176" height="1"><spacer height="1" width="176" type="block"/></td><td width="16" height="1"><spacer height="1" width="16" type="block"/></td><td width="192" height="1"><spacer height="1" width="192" type="block"/></td><td width="512" height="1"><spacer height="1" width="512" type="block"/></td><td width="32" height="1"><spacer height="1" width="32" type="block"/></td><td width="160" height="1"><spacer height="1" width="160" type="block"/></td><td width="16" height="1"><spacer height="1" width="16" type="block"/></td><td width="198" height="1"><spacer height="1" width="198" type="block"/></td><td width="1" height="1"/></tr></tbody></table></div><br/>