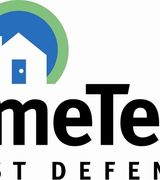 Pest Control
Specialties:

Pest Control,
Pest Control
Add personality to your profile! Tell the community about yourself, your home, and your profession.
Frequently Asked Questions-TAEXX
Q. How does the Taexx system affect air quality inside the home?
A. Two independent research studies conducted by the University of North Florida and LNS Laboratories of Texas have determined there are no detectable traces of pest control materials in the living areas of a home after servicing the Taexx system.
Q. Does the Taexx system cause moisture build up inside the walls?
A. No. Independent research conducted by the University of Florida concluded that "there is more water weight from condensation after a hot shower" than from servicing a Taexx system.
Q. How secure is the Taexx port box located on the outside of a house?
A. The exterior port box is tamper resident with a patented locking mechanism that requires a proprietary key not commercially available.
Q. Will the Taexx system tubing clog after several treatments?
A. No. Independent research by the University of Georgia determined there was no clogging of the apertures (holes) and none malfunctioned during the simulated 20-year test. The Taexx system, treatment equipment, product used and application techniques have been designed to work together to ensure clog-free tubing for the life of the installed system.
Q. What chemicals are used in the Taexx system?
A. The pest control materials applied through the Taexx system are registered by the Environmental Protection Agency. Tempo® SC Ultra is manufactured by Bayer and is the pest control material used to service the Taexx system.
Research findings are available upon request. Taexx® is a registered trademark of HomeTeam Pest Defense and Tempo® is a registered trademark of Bayer Environmental Science.
More
Less
About Heidi Muro: <p align="center" class="MsoNormal" style="text-align: center;"><strong><font>Frequently Asked Questions-TAEXX</font></strong></p><p class="MsoNormal">&nbsp;</p><p class="MsoNormal"><font>Q.&nbsp; <strong>How does the Taexx system affect air quality inside the home?</strong></font></p><p class="MsoNormal"><font>A.&nbsp; Two independent research studies conducted by the University of North Florida and LNS Laboratories of Texas have determined there are no detectable traces of pest control materials in the living areas of a home after servicing the Taexx system.&nbsp;</font></p><p class="MsoNormal">&nbsp;</p><p class="MsoNormal"><font>Q.&nbsp; <strong>Does the Taexx system cause moisture build up inside the walls?</strong></font></p><p class="MsoNormal"><font>A.&nbsp; No.&nbsp; Independent research conducted by the University of Florida concluded that "there is more water weight from condensation after a hot shower" than from servicing a Taexx system.&nbsp; &nbsp;&nbsp;</font></p><p class="MsoNormal">&nbsp;</p><p class="MsoNormal"><font>Q.&nbsp; <strong>How secure is the Taexx port box located on the outside of a house?</strong></font></p><p class="MsoNormal"><font>A.&nbsp; The exterior port box is tamper resident with a patented locking mechanism that requires a proprietary key not commercially available.</font></p><p class="MsoNormal">&nbsp;</p><p class="MsoNormal"><font>Q.&nbsp; <strong>Will the Taexx system tubing clog after several treatments?</strong></font></p><p class="MsoNormal"><font>A.&nbsp; No.&nbsp; Independent research by the University of Georgia determined there was no clogging of the apertures (holes) and none malfunctioned during the simulated 20-year test.&nbsp; The Taexx system, treatment equipment, product used and application techniques have been designed to work together to ensure clog-free tubing for the life of the installed system.</font></p><p class="MsoNormal">&nbsp;</p><p class="MsoNormal"><font>Q.&nbsp; <strong>What chemicals are used in the Taexx system?</strong></font></p><p class="MsoNormal"><font>A.&nbsp; The pest control materials applied through the Taexx system are registered by the Environmental Protection Agency.&nbsp; Tempo</font><sup><font>&reg;</font></sup> <font>SC Ultra is manufactured by Bayer and is the pest control material used to service the Taexx system.&nbsp;</font></p><p class="MsoNormal">&nbsp;Research findings are available upon request.&nbsp; Taexx<sup>&reg;</sup> is a registered trademark of HomeTeam Pest Defense and Tempo<sup>&reg;</sup> is a registered trademark of Bayer Environmental Science.</p>