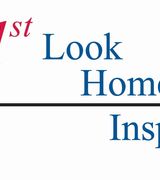 Joe Kormos
Home inspector

(27 years experience)
Flag content

Close

We're Sorry

This service is temporarily unavailable. Please come back later and try again.
Add personality to your profile! Tell the community about yourself, your home, and your profession.
Welcome!
Be sure to choose a NACHI home inspector. Anyone else is just looking around!
A-1st Look Home Inspectors Inc. Your 1st Choice in Property Inspection Professionals.
What does a 1st Look property inspection give you?
Confidence and peace of mind... knowing that your property will be inspected by a state licensed; NACHI certified professional who will give you an accurate picture of your property's mechanical and structural systems. We will guide you through your inspection, consult with you and provide you with the information needed to help you understand the properties current condition.
Our Mission:
The A - 1st Look Home Inspector is a professional committed to understanding and meeting our customer's needs. We will conduct our business with the highest level of expertise, integrity, and above all courtesy and first class customer service. All of our inspectors are trained and certified to exceed the industries highest standards. They are committed to continuous improvement through continuing education (minimally 24 hours annually) to ensure they remain on the cutting edge and to ensure that our customers receive the highest quality inspection.Everyone knows that home ownership is the American Dream. That dream can quickly become a nightmare, however, for uninformed buyers. Even newly constructed homes can harbor costly mistakes - mistakes that may not be visible to the untrained eye.from
"Inspect before you Invest" article on finetuning.com
Your home is a major investment. Whether you intend to stay in it forever or plan to move someday, chances are good that you will spend the next several years in your new home. Why not take the time up front to get a quality home inspection for your new purchase, to ensure you won't come across any unexpected surprises down the road?
A-1st Look Home Inspectors can provide you with the professionalhome inspection you deserve, in any of the following areas:Chicago, Chicagoland, Northwest Suburbs, South Suburbs, North Shore, South ShoreCook County, Dupage County, Boone County, LaSalle CountyKane County, McHenry County, Winnebago CountyLake County, De Kalb County, Kendall County, Gundy County
Please give us a call between the hours of 8:00 AM and 9:30 PMfor a price quote or to schedule your inspection at 630-201-0933
Apointments to Accomodate your Schedule
What I Inspect
I will conduct a thorough inspection of your home, inside and out.
As a NACHI-certified professional home inspector, I have the knowledge and expertise to provide you with a thorough and professional, non-intrusive, visual inspection of your home, from roof to foundation.
Outside the home, I will check the exterior walls, roof, driveway, deck, etc., then I will move inside to examine the walls, ceilings, floors, doors, and windows. The heating, air-conditioning,plumbing, and electrical systems will all be examined to ensure that they function as intended. Bathrooms, kitchens, and laundry rooms receive a thorough check, along with the attic and basement or crawl space.
Here are some of the many items I'll be looking at during your home inspection:Foundation and support structureFireplacesRoof systemsBasement seepageSafety controlsWater heaterVentilationElectrical capacity & componentsStructural integritySteps and stairsHeating systemCentral Air Conditioning systemWalks and drivewaysBuilt-in appliancesPlumbing system & fixturesGarages, Carports, Workshops or other external buildingsSurface drainageWindows & doorsInsulationGutters & downspoutsDecksSump pumps
I invite you to come along and watch as I inspect your home, and you are free to ask questions at any time during your home inspection. For more information on home inspections, please browse the rest of my web site,
http://www.a-1stlook.com/
and be sure to check out the Homeowners Resources section under Links of Interest.
My Promise to You
Choosing the right home inspector can be difficult.
Unlike most professionals, you probably will not get to meet me until after you hire me. Furthermore, different inspectors have varying qualifications, equipment, experience, reporting methods, and yes, different pricing. One thing for sure is that a home inspection requires work, a lot of work. Ultimately a thorough inspection depends heavily on the individual inspector's own effort.
If you honor me by permitting me to inspect your new home, I guarantee that I will give you my very best effort.
This I promise you.
Joe Kormos
President and Founder
A-1st Look Home Inspectors Inc.
Areas of Expertise
Residential, Pre Sale, Post Sale, Maintenance, Investment, Commercial, and New Home Warranty Inspections.
Mold, Radon,Well and Septic insepctions are also available.
What I Inspect
I will conduct a thorough inspection of your home, inside and out.
As a State of Illinois Licensed professional home inspector and aNACHI-certified professional home inspector, I have the knowledge and expertise to
More
Less