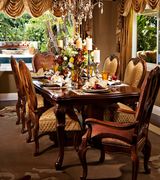 Interior Affairs - Vickie Daeley
Designer & President- Vickie Daeley
Specialties:

Interior Design
Add personality to your profile! Tell the community about yourself, your home, and your profession.
Interior Affairs, and President Vickie Daeley, have an over 20 year reputation for being one of Orange County's leading Interior designers. Located in Anaheim Hills, California, the firm has worked on projects throughout Orange County and California. Interior Affairs offers a complete interior design and remodel service to their clients by collaborating with skilled craftsmen and artisans. The goal is to create a stress free, rewarding experience for the client.
Interior Affairs has completed an extensive number of projects in an array of sizes and styles. Whether you're looking for traditional, transitional or modern style, we can help you achieve the most unique, sophisticated space to fit your needs. Vickie and her design assistants have worked with clients on their homes, second homes, vacation homes and have come up with a unique way to work with clients on their relocation homes. Vickie prides herself with professional business skills and ethical practices. She is a strong leader, project manager and team worker with clear direction throughout the design project. Interior Affairs can help you with any size project, even if you're starting with a bathroom remodel or a whole house design. From blue prints to completion, Vickie and her design team create beautiful places of rest and sanctuaries that compliments each client's lifestyle and budget.
One of the homes Vickie designed was featured on the exclusive Choc Homes Tour. The homes appearing on the tour must be carefully selected by committee. Following the tour, this same home was featured on the cover of Orange County Living magazine. Proceeds from the tour benefited Choc Hospital and Vickie is honored to have been a part of it all. Vickie Daeley was awarded Guest Bedroom Project and Master Bedroom Suite Project in the Philharmonic Design Houses in Orange and Tustin California. Romantic homes selected Vickie's work from the Prestigious Philharmonic Design House as feature in their publication. Many of Vickie's other designs have been featured in publications such as; North Orange County Living Magazine, South Orange County Living Magazine, California Homes, Romantic Homes, Coast Magazine, Home Magazine, Experience Magazine and Your Villa Magazine.
Vickie and her entire design team look forward to earning your trust and helping you with all of your "Interior Affairs"!


More
Less
About Interior Affairs - Vickie Daeley: <p>Interior Affairs, and President Vickie Daeley, have an over 20 year reputation for being one of Orange County's leading Interior designers. Located in Anaheim Hills, California, the firm has worked on projects throughout Orange County and California. Interior Affairs offers a complete interior design and remodel service to their clients by collaborating with skilled craftsmen and artisans. The goal is to create a stress free, rewarding experience for the client.</p><p>Interior Affairs has completed an extensive number of projects in an array of sizes and styles. Whether you're looking for traditional, transitional or modern style, we can help you achieve the most unique, sophisticated space to fit your needs. Vickie and her design assistants have worked with clients on their homes, second homes, vacation homes and have come up with a unique way to work with clients on their relocation homes. Vickie prides herself with professional business skills and ethical practices. She is a strong leader, project manager and team worker with clear direction throughout the design project. Interior Affairs can help you with any size project, even if you're starting with a bathroom remodel or a whole house design. From blue prints to completion, Vickie and her design team create beautiful places of rest and sanctuaries that compliments each client's lifestyle and budget.</p><p>One of the homes Vickie designed was featured on the exclusive Choc Homes Tour. The homes appearing on the tour must be carefully selected by committee. Following the tour, this same home was featured on the cover of Orange County Living magazine. Proceeds from the tour benefited Choc Hospital and Vickie is honored to have been a part of it all. Vickie Daeley was awarded Guest Bedroom Project and Master Bedroom Suite Project in the Philharmonic Design Houses in Orange and Tustin California. Romantic homes selected Vickie's work from the Prestigious Philharmonic Design House as feature in their publication. Many of Vickie's other designs have been featured in publications such as; North Orange County Living Magazine, South Orange County Living Magazine, California Homes, Romantic Homes, Coast Magazine, Home Magazine, Experience Magazine and Your Villa Magazine.</p><p>Vickie and her entire design team look forward to earning your trust and helping you with all of your "Interior Affairs"!</p><h3><br/></h3>