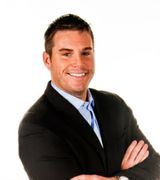 Jay Kinder
29 Recent Sales (last 12 months)
Real estate expert (17 years experience)
Specialties:

Buyer's Agent,
Listing Agent,
Foreclosure,
Short-Sale
Add personality to your profile! Tell the community about yourself, your home, and your profession.
Jay Kinder was literally born into real estate. His father, John Kinder, began his real estate career in 1977, the same year Jay was born. By age nineteen, Jay was ready to make it on his own and in July 1997 under the Coldwell Banker name, he became a full-time agent. Jay developed a passion for every aspect of real estate and yearned to know as much as he could about the industry. He used the knowledge that he acquired to empower those within the real estate network as well as the clients during the home buying and selling process. His intense focus has led him to become certified in Graduate Realtor Institute (GRI) and Certified Residential Specialist (CRS) which less than 1% of realtors obtain. Motivated also by the urge to provide value-added life experiences and promote home ownership across the Lawton community, Jay set his goals high from the start and never let down.

A change in the direct of the company occurred January 1, 2011 when Jay left the Coldwell Banker brand and changed the company name to Jay Kinder Real Estate Experts. This change "allowed us to invest more in marketing, tools and staff to get more homes sold with better communication along the way, said Jay, about the change.

Jay has worked to develop the most effective real estate systems in the industry and his business acumen and intent on continually gaining knowledge has paid off.

AWARDS AND RECOGNITION

In 2007, Jay was named #5 in the Word for Coldwell Banker, competing with over 120,000 Realtors - being the youngest to ever obtain this achievement. The results don't stop there. Also in 2007 Jay was ranked #1 in Oklahoma and #2 in the Southern Region to include over 1,700 realtors from 14 states. He has been recognized with the honor of #1 Sales Associate in Oklahoma in 2002, 2004, 2005 and 2006 and 2007. Jay was also honored by the Small Business Administration as the 2006 State and Regional Young Entrepreneur of the Year.

More recent accomplishments, Jay Kinder Real Estate Experts was named one of America's top real estate teams by the Wall Street Journal and REAL Trends on September 6, 2011. And is ranked in the top one half of 1 percent of the more than 1 million realtors nationwide and listed in "The Thousand Top Real Estate Professionals", a prestigious national award ranking sponsored by the two respected publications. "The best individual agents and teams - including Jay Kinder Real Estate Experts award-winning efforts- were nothing short of phenomenal considering the challenging real estate market", said Steve Murray, founder of Denver-Based publishing and communications company REAL Trends, which complied the list.

On December 12, 2011 USA Today reported that Jay was named a Best Selling Author by The National Academy of Best-Selling Authors and received the 2011 Quilly Award. "It was an honor being named Best Selling Author and I'm proud to be a co-author of the book "Trendsetters" along with my business partner and other industry leads setting the standard when it comes to business growth and leadership", said Jay Kinder when asked about the recent award.

Throughout his real estate career, Jay has been depicted as the Master of Real Estate and has earned the recognition as one of the Top 30 Realtors under 30. He has been quoted in some of the top Real Estate publications to include Realtor Magazine, REO Magazine, The Residential Specialist, and the RIS Media Real Estate Magazine as well as Fortune Magazine.

As a leader in understanding and implementing the proper systems in the real estate industry, Jay has worked hard to help others develop their own professional business models. He is very adamant about helping others succeed and achieve the goals they never thought possible. No matter what industry or interest, Jay has the ability to inspire and encourage anyone that wants more out of life.

As is evident through his accomplishments, Jay has continued to grow and succeed with his business and has loved every second of it.

ALLIANCES

Kinder Reese Real Estate Partners is a couching company that Jay Kinder and Michael Reese started in 2006. Jay and Michael serve as mentors to peers at national, regional and local levels and aim to help anyone within the real estate community achieve their goals. Jay is currently one of the top real estate entrepreneurs in the country providing training and resources to others nationwide that are trying to achieve excellence and success.

More
Less
About Jay Kinder: Jay Kinder was literally born into real estate. His father, John Kinder, began his real estate career in 1977, the same year Jay was born. By age nineteen, Jay was ready to make it on his own and in July 1997 under the Coldwell Banker name, he became a full-time agent. Jay developed a passion for every aspect of real estate and yearned to know as much as he could about the industry. He used the knowledge that he acquired to empower those within the real estate network as well as the clients during the home buying and selling process. His intense focus has led him to become certified in Graduate Realtor Institute (GRI) and Certified Residential Specialist (CRS) which less than 1% of realtors obtain. Motivated also by the urge to provide value-added life experiences and promote home ownership across the Lawton community, Jay set his goals high from the start and never let down. &nbsp;<br/><br/>A change in the direct of the company occurred January 1, 2011 when Jay left the Coldwell Banker brand and changed the company name to Jay Kinder Real Estate Experts. &nbsp;This change "allowed us to invest more in marketing, tools and staff to get more homes sold with better communication along the way, said Jay, about the change.<br/><br/>Jay has worked to develop the most effective real estate systems in the industry and his business acumen and intent on continually gaining knowledge has paid off. &nbsp;<br/><br/>AWARDS AND RECOGNITION<br/><br/>In 2007, Jay was named #5 in the Word for Coldwell Banker, competing with over 120,000 Realtors - being the youngest to ever obtain this achievement. The results don't stop there. Also in 2007 Jay was ranked #1 in Oklahoma and #2 in the Southern Region to include over 1,700 realtors from 14 states. He has been recognized with the honor of #1 Sales Associate in Oklahoma in 2002, 2004, 2005 and 2006 and 2007. Jay was also honored by the Small Business Administration as the 2006 State and Regional Young Entrepreneur of the Year. <br/><br/>More recent accomplishments,&nbsp;Jay Kinder Real Estate Experts was named one of America's top real estate teams by the Wall Street Journal and REAL Trends on September 6, 2011. &nbsp;And is ranked in the top one half of 1 percent of the more than 1 million realtors nationwide and listed in "The Thousand Top Real Estate Professionals", a prestigious national award ranking sponsored by the two respected publications. &nbsp;"The best individual agents and teams - including Jay Kinder Real Estate Experts award-winning efforts- were nothing short of phenomenal considering the challenging real estate market", said Steve Murray, founder of Denver-Based publishing and communications company REAL Trends, which complied the list. &nbsp;<br/><br/>On December 12, 2011 USA Today reported that Jay was named a Best Selling Author by The National Academy of Best-Selling Authors and received the 2011 Quilly Award. &nbsp;"It was an honor being named Best Selling Author and I'm proud to be a co-author of the book "Trendsetters" along with my business partner and other industry leads setting the standard when it comes to business growth and leadership", said Jay Kinder when asked about the recent award.<br/><br/>Throughout his real estate career, Jay has been depicted as the Master of Real Estate and has earned the recognition as one of the Top 30 Realtors under 30. He has been quoted in some of the top Real Estate publications to include Realtor Magazine, REO Magazine, The Residential Specialist, and the RIS Media Real Estate Magazine as well as Fortune Magazine. <br/><br/>As a leader in understanding and implementing the proper systems in the real estate industry, Jay has worked hard to help others develop their own professional business models. He is very adamant about helping others succeed and achieve the goals they never thought possible. No matter what industry or interest, Jay has the ability to inspire and encourage anyone that wants more out of life.<br/><br/>As is evident through his accomplishments, Jay has continued to grow and succeed with his business and has loved every second of it.<br/><br/>ALLIANCES<br/><br/>Kinder Reese Real Estate Partners is a couching company that Jay Kinder and Michael Reese started in 2006. Jay and Michael serve as mentors to peers at national, regional and local levels and aim to help anyone within the real estate community achieve their goals. Jay is currently one of the top real estate entrepreneurs in the country providing training and resources to others nationwide that are trying to achieve excellence and success.<br/>
Property Address
Represented
Sold Date
Price