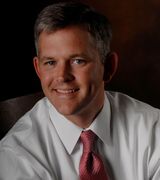 Pulaski County Title (13 years experience)
Specialties:

Escrow,
Title
Add personality to your profile! Tell the community about yourself, your home, and your profession.
Jeff McKay began his real estate career in 1987 in a family real estate brokerage company. After 12 years as an agent and broker, Jeff left the family business and worked as an independent fee appraiser, appraising residential and commercial real estate. In 2002, Jeff left the appraisal field and became a closer with a Little Rock title company. He quickly discovered a knack for the title business and soon became a favored closer among Central Arkansas REALTORS®. In 2007, Jeff and long-time friend, Billy Roehrenbeck, founded Pulaski County Title. Today, Pulaski County Title remains the fastest growing title company in Central Arkansas. Jeff and Billy continue serving their clients on the "front lines" as closers, a rarity for title company owners.
During his real estate career, Jeff obtained an Arkansas Real Estate Broker's license, an Arkansas State Certified Appraiser License and an Arkansas Title Insurance Agent license. He is a Little Rock native and graduated from Catholic High School in 1983. Jeff holds a Bachelor of Science in Management from the A.B. Freeman School of Business at Tulane University in New Orleans and a Master of Business Administration from The University of Arkansas at Little Rock. He is an active member of the Arkansas Land Title Association. Jeff is a past board member of The Little Rock REALTORS® Association, a previous life-member of the Little Rock REALTORS® Million Dollar Club, a past board member of The Arkansas Fly Fishers, and was a founding member of the Central Arkansas Chapter of Trout Unlimited. Jeff and his wife, Sandra, have six children.
More
Less
About Jeff McKay: <p class="MsoNormal"><font><strong>Jeff McKay</strong> began his real estate career in 1987 in a family real estate brokerage company.&nbsp;</font> After 12 years as an agent and broker, Jeff left the family business and worked as an independent fee appraiser, appraising residential and commercial real estate.&nbsp; In 2002, Jeff left the appraisal field and became a closer with a <?null xml:namespace prefix = st1 /?>Little Rock title company.&nbsp; He quickly discovered a knack for the title business and soon became a favored closer among Central Arkansas REALTORS&reg;.&nbsp; In 2007, Jeff and long-time friend, Billy Roehrenbeck, founded Pulaski County Title.&nbsp; Today, Pulaski County Title remains the fastest growing title company in Central Arkansas. &nbsp;Jeff and Billy continue serving their clients on the "front lines" as closers, a rarity for title company owners.</p><p class="MsoNormal"><font>During his real estate career, Jeff obtained an Arkansas Real Estate Broker's license, an Arkansas State Certified Appraiser License and an Arkansas Title Insurance Agent license.&nbsp;</font> He is a Little Rock native and graduated from Catholic High School in 1983.&nbsp; Jeff holds a Bachelor of Science in Management from the A.B. Freeman School of Business at Tulane University in New Orleans and a Master of Business Administration from The University of Arkansas at Little Rock.&nbsp; He is an active member of the Arkansas Land Title Association.&nbsp; Jeff is a past board member of The Little Rock REALTORS&reg; Association, a previous life-member of the Little Rock REALTORS&reg; Million Dollar Club, a past board member of The Arkansas Fly Fishers, and was a founding member of the Central Arkansas Chapter of Trout Unlimited.&nbsp; Jeff and his wife, Sandra, have six children.</p><p><strong><br/></strong>&nbsp;</p>