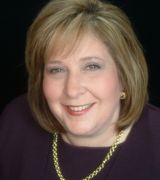 Judy Weiss
2 Recent Sales (last 12 months)
Specialties:

Buyer's Agent,
Listing Agent,
Relocation,
Consulting
Add personality to your profile! Tell the community about yourself, your home, and your profession.
"There's No Place like home!" Let me help you buy or sell yours
Judy Weiss is an award winning Realtor with the number one office in Highland Park, Coldwell Banker Residential Brokerage. Judy firmly believes real estate is all about relationships. She has built long lasting and strong relationships with not only her clients but many of the top brokers in the North Shore and city of Chicago. It is these networks that she taps to help you find your perfect home or find your perfect buyer. Judy's strengths are creativity, attention to detail, negotiation, building rapport, contract and communication management. She helps clients, friends, and new customers with their real estate needs in the North Shore including Lake Forest, Highland Park, Glenview, Northbrook, Winnetka, Wilmette, Evanston and the surrounding communities and is equally adept at helping clients in the city neighborhoods of Loop, Gold Coast, Lakeview, Streeterville, River North, Old Town, and Lincoln Park.
Selling Your Home
Judy offers many unique and creative marketing opportunities for your home. She begins with ensuring that the vast resources of Coldwell Banker's international marketing department are utilized. This includes customized brochures and print materials, and an unparalleled online marketing strategy. Your home will be promoted on over 60 major news and search sites including, but not limited to, it's own website with unique domain name, Zillow, Trulia, Realtor.com, Yahoo, Coldwell Banker National and Local (the latter of which receives over triple the online views of any competitive brokerage), and so many more! While many Realtors can offer technology Judy goes the extra mile for every listing. She personally hosts open houses and combines her love of cooking to ensure that brokers and the public get that extra incentive to come see your listing. Exposure, word of mouth, and marketing is key in drawing in your buyer and Judy leaves no stone unturned to accomplish that goal. Judy's clients have all said that she is an exceptional communicator and in the words of one, "We never felt like we had to chase her down for updates, Judy always took the initiative to keep us informed."
Buying Your Home
Judy works with you to accomplish the goal of finding you a beautiful new home. Most buyers begin with a wider search and the MLS and internet are a great way to start to narrow the field. Once you have your ideal wish list, Judy will drive by and preview the properties for you to be sure your time is not wasted and the time you spend viewing homes is productive and efficient. Judy has been well trained in relocation and is an excellent resource for any out of town buyer. Having raised a family on the North Shore she understands what you are looking for in a community and environment for your children. She will be your sounding board and source for information and do everything she can do be sure that from day one you feel 'at home'. Judy is also an excellent negotiator and looks forward to professionally handling your contract negotiations to enact the most advantageous deal possible, always bearing in mind your interests and investment. Judy's client Julia B. had this to say about her experience with Judy, "Judy is the most hard-working, perservering, never-say-die, sweetly aggressive Realtor I have ever known. Judy is, no doubt, the reason I am sitting in my dream home right now." Judy strives to achieve this level of satisfaction with each and every client she works with and she looks forward to discussing your next home purchase with you.
Family, Fun, and Cookies!
Judy's interests and talents are many and varied. Judy first put to work her B.A. degree in Psychology and Communication as a social worker in the Mayor's office of Inquiry and Information with the Cook County Department of Public Aid. Judy later turned entrepreneur in a successful dessert catering business known as Mrs. Weiss' Entices sold as "Judy's Brownies." Her cookies and confections are sold throughout the North Shore.
Judy has devoted much time to her children's schools and community activities. She formerly was President of Infants Aid Auxiliary of Michael Reese Hospital. Judy and her husband, Andrew, an orthodontist, have raised three children and lived in Highland Park for the past 30 years.
More
Less
About Judy Weiss: <strong>"There's No Place like home!" Let me help you buy or sell yours</strong> <p>Judy Weiss is an award winning Realtor with the number one office in Highland Park, Coldwell Banker Residential Brokerage. Judy firmly believes real estate is all about relationships. She has built long lasting and strong relationships with not only her clients but many of the top brokers in the North Shore and city of Chicago. It is these networks that she taps to help you find your perfect home or find your perfect buyer. Judy's strengths are creativity, attention to detail, negotiation, building rapport, contract and communication management. She helps clients, friends, and new customers with their real estate needs in the North Shore including Lake Forest, Highland Park, Glenview, Northbrook, Winnetka, Wilmette, Evanston and&nbsp; the surrounding communities and is equally adept at helping clients in the city neighborhoods of Loop, Gold Coast, Lakeview, Streeterville, River North, Old Town, and Lincoln Park. &nbsp;</p><p><strong>Selling Your Home</strong></p><p>Judy offers many unique and creative marketing opportunities for your home. She begins with ensuring that the vast resources of Coldwell Banker's international marketing department are utilized. This includes customized brochures and print materials, and an unparalleled online marketing strategy. Your home will be promoted on over 60 major news and search sites including, but not limited to, it's own website with unique domain name, Zillow, Trulia, Realtor.com, Yahoo, Coldwell Banker National and Local (the latter of which receives over triple the online views of any competitive brokerage), and so many more! While many Realtors can offer technology Judy goes the extra mile for every listing. She personally hosts open houses and combines her love of cooking to ensure that brokers and the public get that extra incentive to come see your listing. Exposure, word of mouth, and marketing is key in drawing in your buyer and Judy leaves no stone unturned to accomplish that goal. Judy's clients have all said that she is an exceptional communicator and in the words of one, "We never felt like we had to chase her down for updates, Judy always took the initiative to keep us informed."</p><p><strong>Buying Your Home</strong></p><p>Judy works with you&nbsp; to accomplish the goal of finding you a beautiful new home. Most buyers begin with a wider search and the MLS and internet are a great way to start to narrow the field. Once you have your ideal wish list, Judy will drive by and preview the properties for you to be sure your time is not wasted and the time you spend viewing homes is productive and efficient. Judy has been well trained in relocation and is an excellent resource for any out of town buyer. Having raised a family on the North Shore she understands what you are looking for in a community and environment for your children. She will be your sounding board and source for information and do everything she can do be sure that from day one you feel &lsquo;at home'. Judy is also an excellent negotiator and looks forward to professionally handling your contract negotiations to enact the most advantageous deal possible, always bearing in mind your interests and investment. Judy's client Julia B. had this to say about her experience with Judy, "Judy is the most hard-working, perservering, never-say-die, sweetly aggressive Realtor I have ever known. Judy is, no doubt, the reason I am sitting in my dream home right now." Judy strives to achieve this level of satisfaction with each and every client she works with and she looks forward to discussing your next home purchase with you.</p><p><strong>Family, Fun, and Cookies!</strong></p><br/><br/><p>Judy's interests and talents are many and varied. Judy first put to work her B.A. degree in Psychology and Communication as a social worker in the Mayor's office of Inquiry and Information with the Cook County Department of Public Aid. Judy later turned entrepreneur in a successful dessert catering business known as Mrs. Weiss' Entices sold as "Judy's Brownies." Her cookies and confections are sold throughout the North Shore.</p><br/><br/><p>Judy has devoted much time to her children's schools and community activities. She formerly was President of Infants Aid Auxiliary of Michael Reese Hospital. Judy and her husband, Andrew, an orthodontist, have raised three children and lived in Highland Park for the past 30 years.</p>
Property Address
Bed / Bath
Price
Property Address
Represented
Sold Date
Price