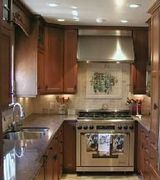 Kitchen Enthusiast
Specialties:

General Contracting
Add personality to your profile! Tell the community about yourself, your home, and your profession.
Are your cabinets custom? We sell two brands of cabinets primarily; Columbia cabinets and Omega cabinets. Columbia cabinets are built to 1/8" increments. That means that if you need a cabinet on the left side of your sink to be 36" and the right side to be 35-7/8" to keep an exact balance, Columbia would happily build them and there would be no extra charge. Columbia cabinets would also do similar sizing on height and depth too – with no extra charge. They will also build cabinets with a deeper drawer if you needed to fit large spice bottles in them, which would cause the door face (if any) to be shorter by the same amount, in other words, they will customize the face of the cabinet – with no extra charge. So is that custom? You tell me, but I think it is. The best part of all this is that these are affordable cabinets. They are affordable because these cabinets are built with modern computerized cutting tools; CNC routers that build highly precise parts with minimal waste and minimal hand processing.
How much does a kitchen remodel cost? Surprisingly this is not that hard of a question to answer, not here anyway. You can bring in your room dimensions and I'll give you a free quote. It will be 95% accurate – sight unseen – because I have built an accurate estimating tool using known historic costs from previous projects. My online remodeling estimator is a scaled down version of this same data.
Are you a kitchen designer? Yes. I design with several disciplines; Ergonomic, furniture style and cost. There are 40 kitchen design rules that will aid in making your kitchen "just work" when it is finished. Your kitchen needs to look like furniture, regardless of your style, and since I am a general contractor I know what things cost, so I am can offer kitchen designs that will keep you on budget and get you the best "finished product" vs "labor cost" ratio.
More
Less