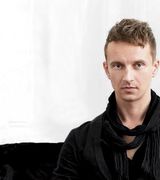 Interior Designer (15 years experience)
Specialties:

Architecture,
Home Building,
Interior Design,
Landscaping
Add personality to your profile! Tell the community about yourself, your home, and your profession.
LUKAS MACHNIK - TV personality winner of 1st season of NBC's AMERICAN DREAM BUILDERS - Interior Designer, Product Designer and Artist. Lukas Machnik moves beyond the traditionalist philosophy of Interior Design with a fresh, radicalist sensibility. A true minimalist at heart, Machnik juxtaposes raw architecture with intimate objects and an atmospheric palette. His practice is one of sensory-enhancement, allowing spaces to breathe so that there is room for possibility, room for new experience. Machnik describes his design style as "curated," and the term couldn't be more apt. "Art shows better when space doesn't confine," says Machnik. That's life in a gallery. Machnik's recent public projects include GALLERY AESTHETE, a menswear boutique on Chicago's Oak Street. Machnik is a cast member and the winner of the 1st season of NBC's AMERICAN DREAM BUILDERS hosted by Nate Berkus.
LUKAS MACHNIK INTERIOR DESIGN specializes in higend residential project, hospitality, commercial and public design. For more information on the firm please go to www.LukasMachnik.com
Machnik recently launched MONUMENTS, a new collection of ebonized hardwood furniture. Reacting to our contemporary condition, Machnik aggrandizes the very act of sitting. Are we in a moment of hyperactivity, or one of deep sleep? Left unanswered, these questions further enhance the exoticism of Machnik's furniture pieces. Once activated, these monolithic chairs and benches create moments of stillness, moments of enthronement.

Other projects include BLACK/NOIR exhibition at PAVILION (Chicago), featuring new drawings and furniture by Lukas Machnik, ADAL jewelry by NORA RENAUD for SOME/THINGS Magazine, and RICK OWENS bronze.
More
Less
About Lukas Machnik: <p>LUKAS MACHNIK - TV personality winner of 1st season of NBC's AMERICAN DREAM BUILDERS - Interior Designer, Product Designer and Artist. &nbsp; &nbsp; &nbsp; &nbsp; &nbsp; &nbsp; &nbsp; &nbsp; &nbsp; &nbsp; &nbsp; &nbsp; &nbsp; &nbsp; &nbsp; &nbsp; &nbsp; &nbsp; &nbsp; &nbsp; &nbsp; &nbsp; &nbsp; &nbsp; &nbsp; &nbsp; &nbsp; &nbsp; &nbsp; &nbsp; &nbsp; &nbsp; &nbsp; &nbsp; &nbsp; &nbsp; &nbsp; &nbsp; &nbsp; &nbsp; &nbsp; &nbsp; &nbsp; Lukas Machnik moves beyond the traditionalist philosophy of Interior Design with a fresh, radicalist sensibility. A true minimalist at heart, Machnik juxtaposes raw architecture with intimate objects and an atmospheric palette.&nbsp;His practice is one of sensory-enhancement, allowing spaces to breathe so that there is room for possibility, room for new experience. Machnik describes his design style as "curated," and the term couldn't be more apt. "Art shows better when space doesn't confine," says Machnik. That's life in a gallery.&nbsp;Machnik's recent public projects include GALLERY AESTHETE, a menswear boutique on Chicago's Oak Street.&nbsp;Machnik is a&nbsp;cast member and the winner of the 1st season of NBC's AMERICAN DREAM BUILDERS hosted by Nate Berkus.</p>LUKAS MACHNIK INTERIOR DESIGN specializes in higend residential project, hospitality,&nbsp;commercial&nbsp;and public design. For more information on the firm please go to www.LukasMachnik.com <br/> <p>Machnik recently launched&nbsp;MONUMENTS, a&nbsp;new collection of ebonized hardwood&nbsp;furniture. Reacting to our contemporary condition,&nbsp;Machnik aggrandizes the very act of sitting. Are we in a moment of hyperactivity, or one of deep sleep? Left unanswered, these questions further enhance the exoticism of Machnik's&nbsp;furniture pieces. Once activated, these monolithic chairs and benches&nbsp;create moments of stillness, moments of enthronement.<br/><br/>Other projects include BLACK/NOIR exhibition at PAVILION (Chicago), featuring new drawings and furniture by Lukas Machnik, ADAL jewelry by NORA RENAUD for SOME/THINGS Magazine, and RICK OWENS bronze.&nbsp;</p>