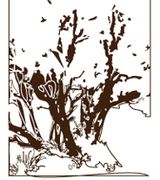 Madroño Landscape Design Studio, Inc.
Landscape Design/Build Contractor (10 years experience)
Specialties:

Landscaping,
Landscape Design
Add personality to your profile! Tell the community about yourself, your home, and your profession.
SAN FRANCISCO LANDSCAPE DESIGN/BUILD
We design and build locally appropriate landscapes rich in color, texture, aroma, and natural symbiosis (birds and butterflies love our work too).
LICENSED LANDSCAPE CONTRACTOR
Member, American Society of Landscape Architects, Association of Professional Landscape Designers, and California Landscape Contractors Association.
MODERN CREATIVE STUDIO
Our design studio on the frontier of the Mission and Potrero Hill is an open-plan workspace shared with architects and graphic designers, a rich source of creative cross-pollination.
ABOUT THE NAME
"Madroño" is Spanish for the madrone tree (Arbutus menziesii), a handsome evergreen found on wooded slopes and canyons in California. The beauty, durability, and integrity of this tree symbolizes the work of the studio: creative design, choice materials, and superior craftsmanship.


More
Less
About Madroño Landscape Design Studio, Inc.: <div>SAN FRANCISCO LANDSCAPE DESIGN/BUILD&nbsp;<div>We design and build locally appropriate landscapes rich in color, texture, aroma, and natural symbiosis (birds and butterflies love our work too).&nbsp;<br/><div>LICENSED LANDSCAPE CONTRACTOR<div>Member, American Society of Landscape Architects, Association of Professional Landscape Designers, and California Landscape Contractors Association.<br/><div>MODERN CREATIVE STUDIO<div>Our design studio on the frontier of the Mission and Potrero Hill is an open-plan workspace shared with architects and graphic designers, a rich source of creative cross-pollination.<br/>ABOUT THE NAME<div>"Madro&ntilde;o" is Spanish for the madrone tree (<em>Arbutus menziesii</em>), a handsome evergreen found on wooded slopes and canyons in California. The beauty, durability, and integrity of this tree symbolizes the work of the studio: creative design, choice materials, and superior craftsmanship.&nbsp;<br/><br/></div></div></div></div></div></div></div>