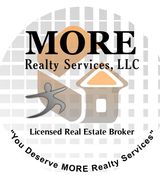 MoreRealtyServices
1 Recent Sales (last 12 months)
Broker / Owner, Brokers License (15 years experience)
Specialties:

Buyer's Agent,
Listing Agent,
Short-Sale,
Commercial R.E.
Add personality to your profile! Tell the community about yourself, your home, and your profession.
My name is Don Johnson - SFR, CFS, AASRE, licensed broker, Realtor and state registered real estate school instructor located in Metro-Orlando, Florida.
As a native of Orlando and a sixth generation Floridian I am uniquely equipped to service all of your real estate needs here in Central Florida, whether it be a first time buyer, seller or a foreclosure.
I am Certified In The Following:
SFR - Short Sale & Foreclosure Resource
CFS - Certified Foreclosure Specialist
AASRE - Associate Applied Sciences IN Real Estate
I'm a current standing member of:
Orlando Regional Realtors Association (ORRA)
Florida Association of Realtors (FAR)
National Association of Realtors (NAR)
Central Florida Real Estate Investors (CFRI)
Orlando Regional International Council (ORIC)
I provide services in the following Central Florida counties:
Orange,Seminole,Osceola,West Volusia,
Polk (Commercial transactions only)
Lake (Commercial transactions only)
Visit my website for current Central Florida listings FREE:
www.MoreRealtyServices.com
SELLING FOR SALE BY OWNER?
Get a FREE Neighborhood Property Analysis for your Home:
www.MoreFSBOs.com
Contact Me Today At:
Phone: 407-462-4992 (M-F 9a-6p)
Email: broker@morerealtyservices.com
Skype: djnorl
** Public Announcement ** Before working with someone to buy or sell real estate in Florida be sure to check if they have a valid and active license. It is a third degree felony in the State of Florida for a person(s) to act as a real estate licensee when not properly licensed, (owners of real estate can sell their own property without a license). There are many people looking to scam you out of your life savings, don't be a victim!
Check my license at:
www.MyFloridaLicense.com
Search by my License number: BK691592
Held with: MORE Realty Services LLC - License # CQ1037634
More
Less
About MoreRealtyServices: My name is Don Johnson - SFR, CFS, AASRE, licensed broker, Realtor and state registered real estate school instructor located in Metro-Orlando, Florida.<br/><br/>As a native of Orlando and a sixth generation Floridian I am uniquely equipped to service all of your real estate needs here in Central Florida, whether it be a first time buyer, seller or a foreclosure.<br/><br/>I am Certified In The Following:<br/><br/>SFR - Short Sale &amp; Foreclosure Resource<br/>CFS - Certified Foreclosure Specialist<br/>AASRE - Associate Applied Sciences IN Real Estate<br/><br/>I'm a current standing member of:<br/><br/>Orlando Regional Realtors Association (ORRA)<br/>Florida Association of Realtors (FAR)<br/>National Association of Realtors (NAR)<br/>Central Florida Real Estate Investors (CFRI)<br/>Orlando Regional International Council (ORIC)<br/><br/>I provide services in the following Central Florida counties:<br/><br/>Orange,Seminole,Osceola,West Volusia,<br/><br/>Polk (Commercial transactions only)<br/>Lake (Commercial transactions only)<br/><br/><br/>Visit my website for current Central Florida listings FREE:<br/><br/><a rel="nofollow" href="http://MoreRealtyServices.com">www.MoreRealtyServices.com</a><br/><br/><br/>SELLING FOR SALE BY OWNER?<br/>Get a FREE Neighborhood Property Analysis for your Home:<br/><br/><a rel="nofollow" href="http://www.MoreFSBOs.com">www.MoreFSBOs.com</a><br/><br/><br/>Contact Me Today At:<br/><br/>Phone: 407-462-4992 (M-F 9a-6p)<br/><br/>Email: broker@morerealtyservices.com<br/><br/>Skype: djnorl<br/><br/><br/><br/>** Public Announcement ** Before working with someone to buy or sell real estate in Florida be sure to check if they have a valid and active license. It is a third degree felony in the State of Florida for a person(s) to act as a real estate licensee when not properly licensed, (owners of real estate can sell their own property without a license). There are many people looking to scam you out of your life savings, don't be a victim!<br/><br/>Check my license at: <a rel="nofollow" href="http://www.MyFloridaLicense.com">www.MyFloridaLicense.com</a><br/>Search by my License number: BK691592<br/>Held with: MORE Realty Services LLC - License # CQ1037634
Property Address
Represented
Sold Date
Price