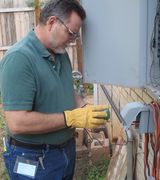 Owner
Specialties:

Inspection,
1st Time Home Buyers
Add personality to your profile! Tell the community about yourself, your home, and your profession.


Free 90 day warranty and RecallChek service with every complete inspection!


As a home renovator in Oklahoma City since 1993 I have seen many unusual maintenance problems and was able to repair them. I am a Home Inspector with building experience. My background in home repairs gives me a unique perspective as to which maintenance concerns could cause serious problems in the future. I am committed to serving you, the buyer. I will let the Home speak for itself at the time of the Home Inspection. I will complete a thorough visual non-invasive Inspection of the readily accessible areas that will enable you to make a sound decision on your purchase. The report will be computer generated so it's easy to read and contain color pictures so you can clearly understand any problems discussed in the report. I am certified and licensed in the state of Oklahoma to perform home inspections according to national testing standards. I am very familiar with all the systems of a home. The components of the home that are covered in the visual non-invasive home inspection report are:


roof, vents, flashings, trim, skylight, chimney, and other roof penetrations

grounds, grading and drainage, downspouts and gutters

exterior covering, decks, stoops, porches, walkways and railings

fireplace, damper, doors and hearth
water faucets/fixtures, tubs/showers, toilets

plumbing supply and drainage, main water shut-off valve, water heating system

electrical panels and service line, breakers or fuses, service amperage, GFCIs and AFCIs

electrical main disconnect, bonding and grounding

basement, crawlspace, foundation, water penetration and foundation movement
installed appliances

garage doors, safety sensors and openers
attic, insulation and ventilation

heating and cooling systems, and distribution

interior lighting, outlets, doors, windows, floors, ceilings and walls
and much more

My wife Leeanne has joined the team and our Home Inspection focus is on helping you the buyer to make a more informed decision on your purchase.
My Home Inspection focus is on helping you the buyer to make a more informed decision on your purchase.
More
Less
About Edward McEntire: <strong><br/><br/></strong><strong>Free 90 day warranty and RecallChek service with every complete inspection!</strong><strong><br/><br/><br/>As a home renovator in Oklahoma City&nbsp;since 1993 I have seen many unusual&nbsp;maintenance&nbsp;problems and was able to repair them. I am a Home Inspector with building experience.&nbsp;</strong><strong>My background in home repairs gives me a unique perspective as to which&nbsp;maintenance concerns could cause serious problems&nbsp;in the future.&nbsp;</strong><strong>I am committed to serving you, the buyer. I will let the Home speak for itself at the time of the Home Inspection. I will complete a thorough visual non-invasive Inspection of the readily accessible areas that will enable you to make a sound decision on your purchase. The report will be computer generated so it's easy to read and contain color pictures so you can clearly understand any problems&nbsp;discussed&nbsp;in the report. I am certified and licensed in the state of Oklahoma to perform home inspections according to national testing standards. I am very familiar with all the systems of a home. The components of the home that are covered in the visual non-invasive home inspection report are:<br/><br/></strong><ol><li>roof, vents, flashings, trim, skylight, chimney, and other roof penetrations<br/></li><li>grounds, grading and drainage, downspouts and gutters<br/></li><li>exterior covering, decks, stoops, porches, walkways and railings<br/></li><li>fireplace, damper, doors and hearth</li><li>water faucets/fixtures, tubs/showers, toilets<br/></li><li>plumbing supply and drainage, main water shut-off valve, water heating system<br/></li><li>electrical panels and service line, breakers or fuses, service amperage, GFCIs and AFCIs<br/></li><li>electrical main disconnect, bonding and grounding<br/></li><li>basement, crawlspace, foundation, water penetration and foundation movement</li><li>installed appliances<br/></li><li>garage doors, safety sensors and openers</li><li>attic, insulation and ventilation<br/></li><li>heating and cooling systems, and distribution<br/></li><li>interior lighting, outlets, doors, windows, floors, ceilings and walls</li><li>and much more<br/></li></ol><p>My wife Leeanne has joined the team and our Home Inspection focus is on helping you the buyer to make a more&nbsp;&nbsp;informed decision on your purchase.</p><strong><br/><br/></strong><center><em>My Home Inspection focus is on helping you the buyer to make a more informed decision on your purchase.</em></center>