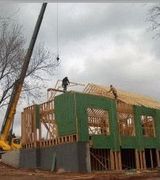 Specialties:

Architecture,
Home Building,
Carpentry
Add personality to your profile! Tell the community about yourself, your home, and your profession.
"Quality craftsmanship done with integrity"
OK Frameworks
guarantees quality workmanship in structural residential wood framing. We offer reasonable competitive pricing and timely completion of our phase of the construction project realizing the value of meeting project deadlines. Our framing & construction services include but are not limited to:
Custom Framing
New Construction
Remodeling
Additions
Fully insured for your protection
We are committed to the following three principles:
Quality Workmanship
OK Frameworks has established an outstanding reputation for providing a sound framing structure that follows the architect's blueprint drawings as well as client specifications.
Competitive Pricing
We provide a fair and reasonable pricing concept that keeps builders coming back for future projects.
Timely Completion
We consistently complete our phase of construction & framing on time and understand the value a client derives from project deadlines being met.
Click Here
To Request an Estimate Online
Call us today at 405-520-3364
Oklahoma City, Oklahoma
More
Less
About OK Frameworks: <center><strong>"Quality craftsmanship done with integrity"</strong></center><br/><strong>OK Frameworks</strong> guarantees quality workmanship in structural residential wood framing. We offer reasonable competitive pricing and timely completion of our phase of the construction project realizing the value of meeting project deadlines. Our framing &amp; construction services include but are not limited to:<ul><li type="square">Custom Framing</li><li type="square">New Construction</li><li type="square">Remodeling</li><li type="square">Additions</li><li type="square">Fully insured for your protection</li></ul><br/>We are committed to the following three principles:<br/><ul class="noindent"><li type="star"><strong>Quality Workmanship</strong><br/>OK Frameworks has established an outstanding reputation for providing a sound framing structure that follows the architect's blueprint drawings as well as client specifications.</li><li type="star"><strong>Competitive Pricing</strong><br/>We provide a fair and reasonable pricing concept that keeps builders coming back for future projects.</li><li type="star"><strong>Timely Completion</strong><br/>We consistently complete our phase of construction &amp; framing on time and understand the value a client derives from project deadlines being met.</li></ul><center><strong><a rel="nofollow" href="http://www.okframeworks.com/OKframing/contact/index.asp">Click Here</a><br/><a rel="nofollow" href="http://www.okframeworks.com/OKframing/contact/index.asp">To Request an Estimate Online</a></strong><br/>Call us today at 405-520-3364<br/>Oklahoma City, Oklahoma</center>