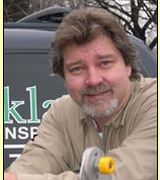 Owner/ Inspector
Specialties:

Inspection
Add personality to your profile! Tell the community about yourself, your home, and your profession.
Usually the Home Buyer is limited to 5 to 10 days to get a Home Inspection.
Oakland Home Inspections
prides itself on its availability with a 12 hour notice. Our Service is also available 7 days a week. Just let us know if you prefer an afternoon or morning appointment.
We know our inspection report is the very finest available because it identifies even the smallest of concerns with intricate detail along with observations of the Inspector. in an easy to understand and highly respected report. Included with each report is "The Home Maintenance Schedule."
Oakland Home Inspections
produces easy to read, nationally recognized reports that exceed the "Standards of Practice". Our inspection reports are informative and easy-to-use. Each section is categorized along with a detailed summary that makes it convenient and easy to reference repairs quickly.
All reports are posted on our website, produced at time of inspection, or faxed to you within 24 hours of the inspection. Our detailed, computerized inspection reports include:
A Summary Section listing major defects and marginal items as well as helpful recommendations for repair or replacement

A Helpful Home Maintenance Guide

Useful Tip Guide for Maintaining Your Home

Free digital copies of photographs taken during the inspection upon Request.
More
Less
About Michael Saari: Usually the Home Buyer is limited to 5 to 10 days to get a Home Inspection.&nbsp; <strong>Oakland Home Inspections</strong> prides itself on its availability with a 12 hour notice. Our Service is also available 7 days a week. Just let us know if you prefer an afternoon or morning appointment.<br/><br/>We know our inspection report is the very finest available because it identifies even the smallest of concerns with intricate detail along with observations of the Inspector. in an easy to understand and highly respected report. Included with each report is "The Home Maintenance Schedule."<br/><br/><strong>Oakland Home Inspections</strong> produces easy to read, nationally recognized reports that exceed the "Standards of Practice".&nbsp; Our inspection reports are informative and easy-to-use. Each section is categorized along with a detailed summary that makes it convenient and easy to reference repairs quickly. <br/><br/>All reports are posted on our website, produced at time of inspection, or faxed to you within 24 hours of the inspection. Our detailed, computerized inspection reports include:<br/><ul class="noindent"><li>A Summary Section listing major defects and marginal items as well as helpful recommendations for repair or replacement<br/></li><li>A Helpful Home Maintenance Guide<br/></li><li>Useful Tip Guide for Maintaining Your Home<br/></li><li>Free digital copies of photographs taken during the inspection upon Request.</li></ul><br/>