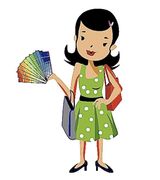 Interior Designer/Owner (8 years experience)
Specialties:

Staging,
General Contracting,
Interior Design,
Painting
Add personality to your profile! Tell the community about yourself, your home, and your profession.
PC Design Inc.
After working in the High-End Interior Design business for 10 years, Paige, took the philosophy of her design practices and scaled them down to give her clients that "high-end look".... without the "high-end" budget. She looks for affordable options for her clients, regardless of their budget, which keeps them coming back time after time and more exciting….PC Design is now headed into it's 6th year of business!
Paige has received degrees in both Interior Design as well as a Fine Arts Degree from Miami University.
Paige worked previously as an Instructor of Interior Design at Antonelli College in Cincinnati, Ohio; teaching Residential Design, Business Practices and Drawing among other courses.
PC Design Inc. has been featured in:
Cincy Chic
Right NOW
Cin-Weekly
Fox 19 WXIX-Cincinnati
PC Design Inc. was established in 2007.
More
Less
About Paige Castellini: <!--[if gte mso 9]><xml> <o:DocumentProperties> <o:Revision>0</o:Revision> <o:TotalTime>0</o:TotalTime> <o:Pages>1</o:Pages> <o:Words>132</o:Words> <o:Characters>757</o:Characters> <o:Company>PC Design Inc</o:Company> <o:Lines>6</o:Lines> <o:Paragraphs>1</o:Paragraphs> <o:CharactersWithSpaces>888</o:CharactersWithSpaces> <o:Version>14.0</o:Version> </o:DocumentProperties> <o:OfficeDocumentSettings> <o:AllowPNG/> </o:OfficeDocumentSettings> </xml><![endif]--> <!--[if gte mso 9]><xml> <m:mathPr> <m:mathFont m:val="Cambria Math"/> <m:brkBin m:val="before"/> <m:brkBinSub m:val="&#45;-"/> <m:smallFrac m:val="off"/> <m:dispDef/> <m:lMargin m:val="0"/> <m:rMargin m:val="0"/> <m:defJc m:val="centerGroup"/> <m:wrapIndent m:val="1440"/> <m:intLim m:val="subSup"/> <m:naryLim m:val="undOvr"/> </m:mathPr></w:WordDocument> </xml><![endif]--><!--[if gte mso 9]><xml> </xml><![endif]--> <!--[if gte mso 10]> <style> /* Style Definitions */ table.MsoNormalTable {mso-style-name:"Table Normal"; mso-style-parent:""; font-size:10.0pt; font-family:"Times New Roman";} </style> <![endif]--> <!--StartFragment--> <p class="MsoNormal">PC Design Inc.</p><p class="MsoNormal">After working in the High-End Interior Design business for 10 years, Paige, took the philosophy of her design practices and scaled them down to give her clients that "high-end look".... without the "high-end" budget. She looks for affordable options for her clients, regardless of their budget, which keeps them coming back time after time and more exciting&hellip;.PC Design is now headed into it's 6<sup>th</sup> year of business!</p><p class="MsoNormal">Paige has received degrees in both Interior Design as well as a Fine Arts Degree from Miami University.</p><p class="MsoNormal">Paige worked previously as an Instructor of Interior Design at Antonelli College in Cincinnati, Ohio; teaching Residential Design, Business Practices and Drawing among other courses.</p><p class="MsoNormal">&nbsp;</p><p class="MsoNormal">PC Design Inc. has been featured in:</p><p class="MsoNormal"><em>Cincy Chic</em></p><p class="MsoNormal"><em>Right NOW</em></p><p class="MsoNormal"><em>Cin-Weekly</em></p><p class="MsoNormal"><em>Fox 19 WXIX-Cincinnati</em></p><p class="MsoNormal"><em>&nbsp;</em></p><p class="MsoNormal"><em>PC Design Inc. was established in 2007.</em></p><p class="MsoNormal">&nbsp;</p><!--EndFragment-->