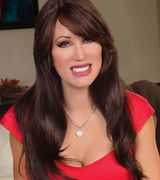 Presiden, CEO, TRC, CDPE, NSFA
Specialties:

Buyer's Agent,
Listing Agent
Add personality to your profile! Tell the community about yourself, your home, and your profession.
A leader with a vision
When one of the most influential respected Real Estate brokerage companies in Miami assembles an elite team of over 175 talented real estate agents, marketing the most- anticipated new luxury residential, commercial complexes and estates in South Florida''s history, everyone pays attention. This sought after company was founded by dynamo trendsetter real estate mogul Patricia Delinois. Delinois has three dynamic offices strategically placed in prime locations in Coral Gables, South Miami and Miami Beach. Century 21 is the largest and most recognized brand in the world. Century 21 Premier Elite Realty has received the President''s Award from Century 21 for the past five years is also the Ambassador Century 21 company for the South Florida area.
Patricia started in Real Estate at the age of 18. She opened a very successful Coldwell Banker franchise in 1996, and approximately ten years later she realized the trend had shifted to a more global market. To gain that international exposure, she switched franchises to Century 21, a worldwide recognized brand with over 9,000 offices, 200,000 agents and more than 2,100 offices in just China alone. Patricia Delinois is President, CEO, and 100% owner of Century 21 Premier Elite Realty. Century 21 is the first company to have an inter - office interactive global mls, Century21global.com
Patricia has served as a speaker on numerous Real Estate topics, lobbied for the industry on Capitol Hill, and is very involved politically in RPAC. Patricia is a Real Estate TV Correspondent , best selling author and Real Estate Expert on Style Network and NBC Universal. Patricia showed clients spectacular waterfront mansions on Hot Listings Miami aired on NBC Style Network. Style network attracted an audience of over 80 million viewers. The show was the highest rated new show on Style Network.
Patricia Delinois is the 2012 Residential President for the MIAMI Association of Realtors, the largest Realtor association in the United States, with over 30,000 plus members and the world''s largest international council. She is also a Director for the National association of Realtors and Florida association of Realtors. Delinois traveled to the Paris Real Estate Expo in April 2011, where an audience of more than a 1,000 attendees heard her French-language presentations on Real Estate and the Miami area. Delinois is co-author on a book with best-selling author Brian Tracy (The Ultimate Success Guide) where she wrote about winning over clients for life and having the King of Pop Michael Jackson as a client.
Delinois speaks French, Spanish, Creole, and English and has served as an ambassador to MIAMI Realtor Association/ organization''s international associations. She was named Broker of the Year in South Florida BEST Awards, overseen by the BEST Board of Governors, comprised of representatives from the Builders Association of South Florida and The Miami Herald. A sphere of high net worth individuals, celebrity and high profile clients and a roster of over 5000 major investors around the world. Patricia Delinois carries a long list of international clients that are successful in business and find her high standards and impeccable credentials a perfect professional match. Patricia is also a founding member of the prestigious Master Brokers Forum.
More
Less
About Patricia Delinois: <p class="MsoNormal">A leader with a vision</p><p class="MsoNormal">&nbsp;When one of the most influential respected Real Estate brokerage companies in Miami assembles an elite team of over 175 talented real estate agents, marketing the most- anticipated new luxury residential, commercial complexes and estates in South Florida''s history, everyone pays attention. This sought after company was founded by dynamo trendsetter real estate mogul Patricia Delinois. Delinois has three dynamic offices strategically placed in prime locations in Coral Gables, South Miami and Miami Beach. Century 21 is the largest and most recognized brand in the world. Century 21 Premier Elite Realty has received the President''s Award from Century 21 for the past five years is also the Ambassador Century 21 company for the South Florida area.&nbsp;<br/>Patricia started in Real Estate at the age of 18. She opened a very successful Coldwell Banker franchise in 1996, and approximately ten years later she realized the trend had shifted to a more global market. To gain that international exposure, she switched franchises to Century 21, a worldwide recognized brand with over 9,000 offices, 200,000 agents and more than 2,100 offices in just China alone.&nbsp;Patricia Delinois is President, CEO, and 100% owner of Century 21 Premier Elite Realty. Century 21 is the first company to have an inter - office interactive global mls,&nbsp;<a rel="nofollow" href="http://century21global.com/">Century21global.com</a><u><br/></u>Patricia has served as a speaker on numerous Real Estate topics, lobbied for the industry on Capitol Hill, and is very involved politically in RPAC. Patricia is a Real Estate TV Correspondent , best selling author and Real Estate Expert on Style Network and NBC Universal. Patricia showed clients spectacular waterfront mansions on Hot Listings Miami aired on NBC Style Network. Style network attracted an audience of over 80 million viewers. The show was the highest rated new show on Style Network.&nbsp;<br/>Patricia Delinois is the 2012 Residential President for the MIAMI Association of Realtors, the largest Realtor association in the United States, with over 30,000 plus members and the world''s largest international council.&nbsp;She is also a Director for the National association of Realtors and Florida association of Realtors. Delinois traveled to the Paris Real Estate Expo in April 2011, where an audience of more than a 1,000 attendees heard her French-language presentations on Real Estate and the Miami area. Delinois is co-author on a book with best-selling author Brian Tracy (The Ultimate Success Guide) where she wrote about winning over clients for life and having the King of Pop Michael Jackson as a client.&nbsp;<br/>Delinois speaks French, Spanish, Creole, and English and has served as an ambassador to MIAMI Realtor Association/ organization''s international associations. She was named Broker of the Year in South Florida BEST Awards, overseen by the BEST Board of Governors, comprised of representatives from the Builders Association of South Florida and The Miami Herald. A sphere of high net worth individuals, celebrity and high profile clients and a roster of over 5000 major investors around the world. Patricia Delinois carries a long list of international clients that are successful in business and find her high standards and impeccable credentials a perfect professional match. Patricia is also a founding member of the prestigious Master Brokers Forum.</p><p class="MsoNormal">&nbsp;</p><br class="MsoNormal"/><br/>
Property Address
Bed / Bath
Price
Property Address
Represented
Sold Date
Price