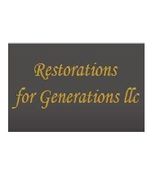 Restorations for Generations LLC
Home Remodeling and Renovations
Specialties:

Carpentry,
General Contracting,
Plumbing,
Flooring, drywall, additions
Add personality to your profile! Tell the community about yourself, your home, and your profession.
Restorations for Generations llc (RFG), is a family run, licensed contracting business. I started my career in cabinetry at the ripe old age of 16, sweeping floors in a cabinetry shop. I was taught the skill of woodwork by my boss who soon had me at my own bench along side the other cabinet makers. Before long, I was Journeyman and had ideas of starting my own company. I began Restorations for Generations in Maryland, Virgina in the 1990's before moving to Hawaii in 2002. After many years building custom cabinetry, I extended the company to include all types of remodeling, particularly kitchens and bathrooms from top to bottom. I like to work along side my customers from conception of a project to completion, ensuring that all needs are met and my customers are completely satisfied with their finished project.
Kitchen and Bathroom Remodeling
Cabinetry- Custom and quality factory cabinets
Counter tops- Granite, Stone, Tile and Concrete
Flooring- Tile, Stone, Wood and Concrete
Fixtures- plumbing and electrical
Toilets, sinks, bath tubs, showers
Drywall, painting and texturing
Framing, decks, patios and driveways

Concept drawings, using our computer software, give an impression of what your bathroom/kitchen will look like once completed. This allows spacial comparison between different design concepts, enabling the best use of space, while keeping in mind aesthetics.

More
Less
About Restorations for Generations LLC: <div>Restorations for Generations llc (RFG), is a family run, licensed contracting business.&nbsp; I started my career in cabinetry at the ripe old age of 16, sweeping floors in a cabinetry shop.&nbsp; I was taught the skill of woodwork by my boss who soon had me at my own bench along side the other cabinet makers.&nbsp; Before long, I was Journeyman and had ideas of starting my own company.&nbsp; I began Restorations for Generations in Maryland, Virgina in the 1990's before moving to Hawaii in 2002.&nbsp; After many years building custom cabinetry, I extended the company to include all types of remodeling, particularly kitchens and bathrooms from top to bottom.&nbsp; I like to work along side my customers from conception of a project to completion, ensuring that all needs are met and my customers are completely satisfied with their finished project.<br/><table border="0" width="100%"><tbody><tr><td><ul><li>Kitchen and Bathroom Remodeling</li><li>Cabinetry- Custom and quality factory cabinets</li><li>Counter tops- Granite, Stone, Tile and Concrete</li><li>Flooring- Tile, Stone, Wood and Concrete</li><li>Fixtures- plumbing and electrical</li><li>Toilets, sinks, bath tubs, showers</li><li>Drywall, painting and texturing</li><li>Framing, decks, patios and driveways</li></ul><div><br/>Concept drawings, using our computer software, give an impression of what your bathroom/kitchen will look like once completed.&nbsp; This allows spacial comparison between different design concepts, enabling the best use of space, while keeping in mind aesthetics.<br/></div></td></tr></tbody></table></div>