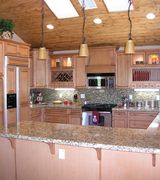 Specialties:

Interior Design,
Plumbing,
Kitchen/Bath Remodel
Add personality to your profile! Tell the community about yourself, your home, and your profession.
Sun Valley Interiors offers kitchen and bathroom remodeling throughout Scottsdale and the Phoenix valley and all surrounding cities. We renovate kitchen cabinets and countertops with the latest in fine wood and wood veneers, fashionable colors, and trusted brands, all at a price that fits your budget. We can remodel a partial room with a wall of new cabinets or remodel a room at a time until your entire home is renewed. Sun Valley Interiors is the #1 family-owned remodeling and design firm in Phoenix, Arizona.

As a premier valley remodeling and cabinet design firm, Sun Valley's innovative designers and installers have helped homeowners, commercial builders, contractors and custom home builders realize their dreams since early 2003.

Our talented kitchen and bath experts work with you to create a perfect design that maximizes your space, fits your budget and reflects your individual style. It's why we like to say, "Your Dreams, Your Way."

Sun Valley Interiors remodeling design services present our customers with a wide range of options: from traditional framed cabinetry in a variety of wood grains and colors, to European-influenced frameless cabinetry styles. We also supply a wide array of countertop options from laminates to exotic granites.

Our 2,000-square-foot Scottsdale showroom features 11 walk-through displays to showcase the latest trends in kitchen and bath design, including the newest cabinet lines from brand names like DeWils, Woodharbor, Merillat and Quality. Creativity comes alive as you picture how these new pieces and colors will blend with the renovation ideas you have in mind for your kitchen and bath. Sun Valley Interior designers collaborate with you as you choose from the many style options available. All Sun Valley Interiors products are "Made in America," supporting local businesses.


Find out why Sun Valley Interiors was voted Best Remodeler in the Kitchen and Bath Category by Ranking Arizona 2009! Contact Us!
More
Less
About Sun Valley Interiors: Sun Valley Interiors offers kitchen and bathroom remodeling throughout Scottsdale and the Phoenix valley and all surrounding cities. We renovate kitchen cabinets and countertops with the latest in fine wood and wood veneers, fashionable colors, and trusted brands, all at a price that fits your budget. We can remodel a partial room with a wall of new cabinets or remodel a room at a time until your entire home is renewed. Sun Valley Interiors is the #1 family-owned remodeling and design firm in Phoenix, Arizona.<br/><br/>As a premier valley remodeling and cabinet design firm, Sun Valley's innovative designers and installers have helped homeowners, commercial builders, contractors and custom home builders realize their dreams since early 2003.<br/><br/>Our talented kitchen and bath experts work with you to create a perfect design that maximizes your space, fits your budget and reflects your individual style.&nbsp; <strong>It's why we like to say, "Your Dreams, Your Way."</strong><br/><br/>Sun Valley Interiors remodeling design services present our customers with a wide range of options: from traditional framed cabinetry in a variety of wood grains and colors, to European-influenced frameless cabinetry styles. We also supply a wide array of countertop options from laminates to exotic granites.<br/><br/>Our 2,000-square-foot Scottsdale showroom features 11 walk-through displays to showcase the latest trends in kitchen and bath design, including the newest cabinet lines from brand names like DeWils, Woodharbor, Merillat and Quality. Creativity comes alive as you picture how these new pieces and colors will blend with the renovation ideas you have in mind for your kitchen and bath. Sun Valley Interior designers collaborate with you as you choose from the many style options available. All Sun Valley Interiors products are "Made in America," supporting local businesses.<br/><br/><center><strong>Find out why Sun Valley Interiors was voted Best Remodeler in the Kitchen and Bath Category by Ranking Arizona 2009! Contact Us!</strong></center>