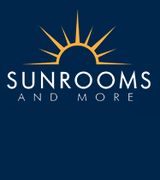 Specialties:

Architecture,
Carpentry,
General Contracting,
Sunrooms, Bathrooms, Windows
Add personality to your profile! Tell the community about yourself, your home, and your profession.
Sunrooms and More truly provides what the name claims. We are a full-service home remodeler that not only installs exceptional sunrooms, but also provides kitchen and bathroom remodeling, basement finishing, patio covers, radiant barrier installation, siding, and a wide range of other home improvements. Our expert team of designers, craftsmen, and installers are all factory-certified professionals who are committed to exceeding customer expectations with beautiful, long-lasting products and courteous, knowledgeable, and skilled services. Our dedication to complete customer satisfaction and record of success in meeting that goal have earned our company an A rating with the Better Business Bureau and the distinction of being named to Qualified Remodeler Magazine's Top 500 remodeling companies list in 2009 and 2010.
More
Less
About Sunrooms And More: <!--[if gte mso 9]><xml> <o:OfficeDocumentSettings> <o:AllowPNG/> </o:OfficeDocumentSettings> </xml><![endif]--> <p class="MsoNormal">Sunrooms and More truly provides what the name claims. We are a full-service home remodeler that not only installs exceptional sunrooms, but also provides kitchen and bathroom remodeling, basement finishing, patio covers, radiant barrier installation, siding, and a wide range of other home improvements. Our expert team of designers, craftsmen, and installers are all factory-certified professionals who are committed to exceeding customer expectations with beautiful, long-lasting products and courteous, knowledgeable, and skilled services. Our dedication to complete customer satisfaction and record of success in meeting that goal have earned our company an A rating with the Better Business Bureau and the distinction of being named to Qualified Remodeler Magazine's Top 500 remodeling companies list in 2009 and 2010.</p><!--[if gte mso 9]><xml> <m:mathPr> <m:mathFont m:val="Cambria Math"/> <m:brkBin m:val="before"/> <m:brkBinSub m:val="&#45;-"/> <m:smallFrac m:val="off"/> <m:dispDef/> <m:lMargin m:val="0"/> <m:rMargin m:val="0"/> <m:defJc m:val="centerGroup"/> <m:wrapIndent m:val="1440"/> <m:intLim m:val="subSup"/> <m:naryLim m:val="undOvr"/> </m:mathPr></w:WordDocument> </xml><![endif]--><!--[if gte mso 9]><xml> </xml><![endif]--><!--[if gte mso 10]> <style> /* Style Definitions */ table.MsoNormalTable {mso-style-name:"Table Normal"; mso-style-parent:""; line-height:115%; font-size:11.0pt; font-family:"Calibri","sans-serif"; mso-bidi-font-family:"Times New Roman";} </style> <![endif]-->