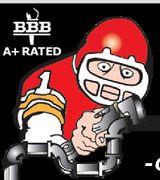 Professional Plumbers
Specialties:

Plumbing
Add personality to your profile! Tell the community about yourself, your home, and your profession.
3 REASONS YOU SHOULD CALL THE PROS AT THE PLUMBING PRO
Price, reliable customer service & a warranty Kansas City has depended on for over 30 years
In addition to providing outstanding plumbing repair services the Plumbing Pro is KC's most recommended sewer and drain cleaning company. For over 30 years the Plumbing Pro has been serving the Kansas City, Missouri & Kansas metro areas. The Plumbing Pro is a locally owned plumbing company that takes pride in quality workmanship and customer satisfaction. From simple plumbing repairs like clogged drain lines and pipes, toilets, kitchen and bathroom sinks, water heater replacement, tub problems to more involved bathroom remodels and walk-in tub installations the Plumbing Pro routinely does it all. We can also repair any sewer or gas line problem.
The Plumbing Pro also offers complete drain services including under ground sewer line repair & replacement. We offer backhoe and trenching services, as well as the latest pipe-lining & trenchless underground sewer pipe replacement. We can repair & replace all underground water lines too. The Plumbing Pro is fully licensed, insured and bonded for your protection.
Our customer service, warranty & price can't be beat.
More
Less
About The Plumbing Pro: <h2 class="Wp-Heading-2-P">3 REASONS YOU SHOULD CALL THE PROS AT THE PLUMBING PRO</h2><p class="Wp-Normal-P">Price, reliable customer service &amp; a warranty Kansas City has depended on for over 30 years</p><p class="Wp-Normal-P"><br/></p><p class="Wp-Normal-P">In addition to providing outstanding plumbing repair services the Plumbing Pro is KC's most recommended sewer and drain cleaning company. For over 30 years the Plumbing Pro has been serving the Kansas City, Missouri &amp; Kansas metro areas. The Plumbing Pro is a locally owned plumbing company that takes pride in quality workmanship and customer satisfaction. From simple plumbing repairs like clogged drain lines and pipes, toilets, kitchen and bathroom sinks, water heater replacement, tub problems to more involved bathroom remodels and walk-in tub installations the Plumbing Pro routinely does it all. We can also repair any sewer or gas line problem.</p><p class="Wp-Normal-P"><br/></p><p class="Wp-Normal-P">The Plumbing Pro also offers complete drain services including under ground sewer line repair &amp; replacement. We offer backhoe and trenching services, as well as the latest pipe-lining &amp; trenchless underground sewer pipe replacement. We can repair &amp; replace all underground water lines too. The Plumbing Pro is fully licensed, insured and bonded for your protection.</p><p class="Wp-Normal-P">Our customer service, warranty &amp; price can't be beat.</p>