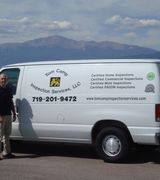 Owner (44 years experience)
Specialties:

Inspection,
Commercial, 203K consultant
Add personality to your profile! Tell the community about yourself, your home, and your profession.
I was born in Phoenix in 1950 and grew up in Southwest Oklahoma, where I grew up on the farm. I moved back to Phoenix in 1965 and finished High School there. My first job out of High School was as a Survey helper and rapidly advanced to Instrument Operator and continued for a year or so.
I was married in 1969 and my 40th anniversary is coming up in December.
I built track and custom homes through the 1970's then started my career in the commercial industry. My 1st superintendents job was in 1980 and I continued as superintendent until 2008. I decided to make another career change started my company (Tom Camp Inspection Services, LLC) after all one of my main jobs as superintendent was to complete in depth inspections for quality and conformance.
In 1993 I moved to Colorado Springs, that as another great change in my life because this is a beautiful place to live and you cant beat the weather.
Here are some services I offer and provide these services from Denver to Castle Rock to Colorado Springs to Pueblo and surrounding areas.
Home Inspections, Commercial Inspections, Radon Inspections, Mold Inspections, Annual Home Inspections, Insurance 4-Point Inspections and Pre-Listing Inspections ( Move-in-Certified).
I am a certified member in good standing of the International Association of Home Inspectors (
InterNachi
) and am certified in all the services I provide. I abide by the InterNachi Code of Ethics and the Standards of Practice. My InterNachi Certification # "NACHI109071802".
I am also
IAC2 certified
for inspecting indoor air quality such as Radon and Mold testing.
In my Home Inspections I produce your report on site form my mobile office and review the results with you so you can make your home buying decision with confidence. I use Home Inspector Pro software for my reports which generates an easy to read and understand report, not only do you receive your report on site but I will also email the report to you and if you wish to your buying agent.
I am an approved
HUD / FHA 203k Consultant
I have built my company on a life times Experience, Honesty, Integrity and a desire to Excel.
My company motto is "Inspections Done Right"
Certified Home Inspector in Colorado Springs
I enjoy biking the wonderful trails around Colorado Springs, Running and
Genealogy
More
Less
About Tom Camp: I was born in Phoenix in 1950 and grew up in Southwest Oklahoma, where I grew up on the farm. I moved back to Phoenix in 1965 and finished High School there. My first job out of High School was as a Survey helper and rapidly advanced to Instrument Operator and continued for a year or so.<br/> <br/>I was married in 1969 and my 40th anniversary is coming up in December.<br/> <br/>I built track and custom homes through the 1970's then started my career in the commercial industry. My 1st superintendents job was in 1980 and I continued as superintendent until 2008. I decided to make another career change started my company (Tom Camp Inspection Services, LLC) after all one of my main jobs as superintendent was to complete in depth inspections for quality and conformance.<br/> <br/>In 1993 I moved to Colorado Springs, that as another great change in my life because this is a beautiful place to live and you cant beat the weather. <br/> <br/>Here are some services I offer and provide these services from Denver to Castle Rock to Colorado Springs to Pueblo and surrounding areas.<br/> <br/>Home Inspections, Commercial Inspections, Radon Inspections, Mold Inspections, Annual Home Inspections, Insurance 4-Point Inspections and Pre-Listing Inspections ( Move-in-Certified).<br/> <br/>I am a certified member in good standing of the International Association of Home Inspectors (<a rel="nofollow" href="http://www.nachi.org/">InterNachi</a>) and am certified in all the services I provide. I abide by the InterNachi Code of Ethics and the Standards of Practice. My InterNachi Certification # "NACHI109071802".<br/> <br/>I am also <a rel="nofollow" href="http://www.iac2.org/members.php?name=C">IAC2 certified</a> for inspecting indoor air quality such as Radon and Mold testing.<br/> <br/>In my Home Inspections I produce your report on site form my mobile office and review the results with you so you can make your home buying decision with confidence. I use Home Inspector Pro software for my reports which generates an easy to read and understand report, not only do you receive your report on site but I will also email the report to you and if you wish to your buying agent.<br/><br/>I am an approved <a rel="nofollow" href="http://www.tomcampinspectionservices.com/fha-203k-consultant/">HUD / FHA 203k Consultant</a><br/> <br/>I have built my company on a life times Experience, Honesty, Integrity and a desire to Excel.<br/> <br/>My company motto is "Inspections Done Right" <br/><br/><a rel="nofollow" href="http://www.tomcampinspectionservices.com/">Certified Home Inspector in Colorado Springs</a> <br/><br/>I enjoy biking the wonderful trails around Colorado Springs, Running and <a rel="nofollow" href="http://www.tomcamp.org/">Genealogy</a><br/><br/><br/><br/><br/><br/>