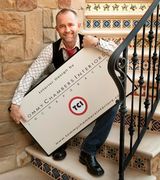 Interior Designer
Specialties:

Interior Design
Add personality to your profile! Tell the community about yourself, your home, and your profession.
Los Angeles interior designer Tommy Chambers opened his own design company, Tommy Chambers Interiors Incorporated, in 2001 after eight years at Chambers and Murray, Inc. as head of the interiors department and the senior business and operations manager. Prior to starting Chambers and Murray, Inc. Tommy apprenticed for five years with the venerable interior designer, Joan Axelrod of Joan Axelrod Interiors.
In addition to receiving an architecture degree from Texas A&M University, Tommy spent a year in Europe studying art, architecture and decorative arts. With this training and experience, Tommy develops a unique approach to interior design for each of his clients. By ignoring one "designer signature look" Tommy creates timeless, livable and comfortable rooms, ranging from classic to contemporary, reflecting each client's tastes and definitions of personal comfort.
To ensure the highest levels of client service and attention to detail and budget, projects at Tommy Chambers Interiors are carefully selected and managed. Tommy is directly involved in each project to ensure dedicated and focused attention to the client's needs. Though he works primarily in Southern California, Tommy and his team have projects throughout the United States and abroad.
Tommy's work has been described as "eclectic and playful with an exquisite sense of color and texture…sophisticated casual…oh so livable…stylish blend of decorating that is beautiful and affordable…Tommy gives rooms a story of their own."
Tommy is listed in the
(Los Angeles Franklin Report)
, an independent evaluator of designers and design services. He is also an active professional member of the American Society of Interior Designers (ASID), the International Interior Design Association (IIDA) and the Institute of Classical Art and Architecture (ICAA).
More
Less
About Tommy Chambers: Los Angeles interior designer Tommy Chambers opened his own design company, Tommy Chambers Interiors Incorporated, in 2001 after eight years at Chambers and Murray, Inc. as head of the interiors department and the senior business and operations manager. Prior to starting Chambers and Murray, Inc. Tommy apprenticed for five years with the venerable interior designer, Joan Axelrod of Joan Axelrod Interiors.&nbsp; <br/><br/>In addition to receiving an architecture degree from Texas A&amp;M University, Tommy spent a year in Europe studying art, architecture and decorative arts. With this training and experience, Tommy develops a unique approach to interior design for each of his clients. By ignoring one "designer signature look" Tommy creates timeless, livable and comfortable rooms, ranging from classic to contemporary, reflecting each client's tastes and definitions of personal comfort. <br/><br/>To ensure the highest levels of client service and attention to detail and budget, projects at Tommy Chambers Interiors are carefully selected and managed. Tommy is directly involved in each project to ensure dedicated and focused attention to the client's needs. Though he works primarily in Southern California, Tommy and his team have projects throughout the United States and abroad.<br/><br/>Tommy's work has been described as "eclectic and playful with an exquisite sense of color and texture&hellip;sophisticated casual&hellip;oh so livable&hellip;stylish blend of decorating that is beautiful and affordable&hellip;Tommy gives rooms a story of their own." <br/><br/>Tommy is listed in the <a rel="nofollow" href="http://www.franklinreport.com/ReportCard.aspx?v=5820"><font>(Los Angeles Franklin Report)</font></a>, an independent evaluator of designers and design services. He is also an active professional member of the American Society of Interior Designers (ASID), the International Interior Design Association (IIDA) and the Institute of Classical Art and Architecture (ICAA). <br/>